National Locum Tenens Week honors the physicians who step in all over the country – from rural locations, to big-city hospitals and clinics – to care for underserved populations and patients.
Facilities that use locum tenens find them invaluable for ensuring seamless coverage of patient care, in the event of being short-staffed, a physician being out on maternity or sick leave, or searching for a permanent staff member.
However, locum tenens are also caring for another population when they come into a facility – their fellow physicians. Locum tenens providers allow the permanent physicians they are working with the opportunity to maintain work/life balance, take time off, find time for training and CMEs, and provide additional clinical resources that would otherwise not be available.
In the case of Dr. Larry Daugherty, he has seen both sides of the locums/permanent physician relationship.
Looking closer at the difference locum tenens physicians make
Working as a locum tenens physician early in his career, Dr. Daugherty couldn't foresee how his future practice would come to depend on the services of other locums physicians. He's the sole radiation oncologist at his practice in Anchorage, Alaska – what he calls "a big state with a small-town feel."
Being the only specialist of his kind in his busy practice, Dr. Daugherty had concerns about coverage when he wanted to take time off to pursue his other passions: nonprofit work, mountain climbing, and the Iditarod. While he didn't want to leave any gaps in care for his patients, he also wanted to maintain his work/life balance.
He knew his patients on a first-name basis, passing them on the street while running, and bumping into them at his kids' sporting events. He wanted to ensure they wouldn't feel his absence. His concerns were short-lived, however, as he remembered the value of his time as a locum tenens and realized hiring a locums was the answer to meet the needs of his practice and his personal life.
Today, hiring locums allows him to travel on medical missions throughout the world, bringing equipment and cancer services to other communities that need specialized care.
The birth of a locum tenens career, and the chance to pay it forward
Dr. Daugherty took his first locum tenens assignment as a way to make ends meet – and to find work/life balance. As it happened, locums eventually became the answer to his money woes, but, more importantly, allowed him the time to pursue his passion for climbing, travel, and mission work. One of his first assignments landed him and his family in North Carolina, where they treated his assignment as a working vacation.
"We rented a beach house, and at the same time I was able to pay off some bills," he shares.
As his career progressed, he found that taking locum tenens positions provided him the time off to make a difference, not only in the communities in which he provided coverage, but in locations with other populations in need – time he was able to take because of the schedule flexibility that locum tenens allowed him.
Read more of Dr. Daugherty's locum tenens experience here.
Dr. Daugherty no longer works as a locum tenens, but he uses them for coverage when he goes on one of his many climbing adventures, or travels for charitable work with his nonprofit.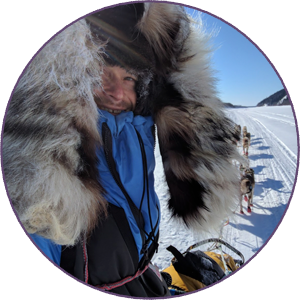 Bringing Western medicine to the Third-World
His desire to make an impact in the world first took him to Ghana, where he discovered that patients were in dire need of cancer treatment. Many Ghanaians believed illnesses were brought upon them by curses or spirits, leading them to seek the help of local healers rather than traditional doctors, avoiding medical treatment until their situation was dire. Dr. Daugherty also found that the equipment in their facilities was reminiscent of what doctors in the U.S. had access to 50 to 60 years ago.
"I wasn't prepared for it; they had very primitive radiation oncology equipment. So I saw a need, and this evolved into my and a partner's nonprofit, Radiating Hope, where we help to improve access to cancer treatment in developing nations," he shares. "Hospitals and clinics in the U.S. were phasing out their older radiologic equipment, which was perfectly operational, and our foundation has been able to bring that technology to Africa and other places in need."
Since he's the only radiation oncologist on staff at his clinic in Alaska, he relies on his pool of competent and ready-to-work locum tenens, which puts his mind at ease. He doesn't worry that his patients' care will suffer.
He shares, "Having a locums physician come in and cover your practice is like having somebody come in and live in your house, so it's important to me that I have good, quality coverage options, even if it's just for a week."
Locum tenens make an impact worldwide. Not just for the care of the patients at the facility in need of coverage, but the impact felt by those on the receiving end of mission work delivered by the doctor away from his home practice.
Take the opportunity during National Locum Tenens Week to recognize the invaluable work of the locum tenens working in your facilities.
Learn more about why locum tenens matters.