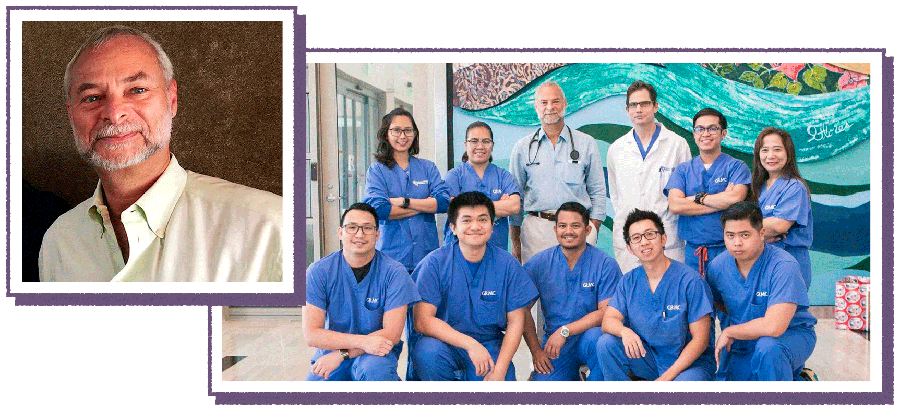 Interventional cardiologist Dr. Joseph Wiedermann spent most of his early years as a physician in a small, privately owned group practice in northern New Jersey with three other physicians. And he grew close to his patients, a lot of whom had been with them for decades. The group's primary focus was high-risk interventional cardiology procedures.
"Many of our patients had been with the practice for over 20 years," Dr. Wiedermann recounts. "We had become quite bonded both to the physicians in the practice and to the office staff who knew the patients very well. This engendered a level of doctor-patient trust and even affection, which I felt was indispensable to providing good medical care."
He never imagined he would end up in Guam, a U.S. territory located in the western Pacific. In 2017, he accepted his first locums assignment at Guam Regional Medical City. Just three years later, he's now the hospital's chief of cardiology.
A changing landscape of medicine that altered his path
Dr. Weidermann's story is a familiar one to many who started out in private practice only to find that over the years changes in the nature of medical economics made it hard to maintain that lifestyle. The financial pressures of running a group practice ultimately led him to sell to a local hospital, a decision that changed his life.
"At that time, over 80% of cardiology practices in the U.S. had become hospital-owned for a number of factors, but the primary cause was a loophole in reimbursement practices. This allows hospitals to charge higher rates for diagnostic procedures than can be charged by individual physician practices. This meant that we were having trouble covering our salaries and staying afloat, whereas the hospital had a far higher reimbursement for the exact same diagnostic testing. This gave them a much easier path to profitability."
An untenable situation
After selling the practice, everything seemed to be going smoothly at first. "In our initial contract, it was laid out quite specifically that we could continue to practice medicine at our current office, in the same manner," Dr. Wiedermann says. "They took over all the billing and collections, but solemnly promised not to get involved in how we practiced medicine. Unfortunately, this contract also included a 'poison pill,' forbidding us to practice medicine within 10 miles of our offices for two years if the contract was ever terminated." This left him in was he describes as an "inescapable trap."
For a couple years Dr. Wiedermann continued to practice under these more constrained conditions, but when he saw the third year's contract, things really changed for him.
"It was then I realized that the hospital had completely changed the rules of the game," he says. "They knew that my bargaining power was essentially nil and began by insisting that I move from my long-established practice office location."
"Then they informed me I was spending too much time with my patients," Dr. Wiedermann says, "and I needed to keep the visits to 15 minutes. This violated the first promise they made to us in the original contract. I was left with no negotiation power — a 'take-it-or-leave-it' situation. Accordingly, I said I wouldn't agree to conditions I found unethical and they promptly fired me without cause."
Now faced with the non-compete clause, it became impossible for him to practice locally.
"I couldn't open a local office as I wouldn't be able to use any of the local hospitals," he says. "It was impossible for me to join any local practices, as it's impossible to practice interventional cardiology without access to a local hospital. Accordingly, I was forced to pursue distant alternatives."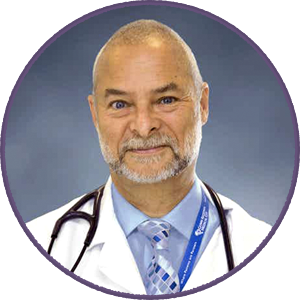 A life-changing decision
Once he realized he would be unable to practice medicine locally, Dr. Wiedermann decided to reach out to a locum tenens company, where his recruiter found him an assignment in Guam.
"This was my first locums assignment," he says. "Out of all the offers that I saw, it was the most attractive; not in terms of money — because they were all pretty similar — but because of the ability to start something new and give the people of Guam something they've never had access to before. There was no interventional cardiology in Guam before."
Dr. Wiedermann's locums assignment evolved into a permanent position with the hospital in Guam since the hospital continued to extend his assignment, so he and the locums company temporarily parted ways. But he fully intends on continuing with locums assignments stateside when he feels he's accomplished all he'd like to in Guam.
"I've been working at Guam Regional Medical City as chief of cardiology and director of the cardiac catheterization laboratory," Dr. Wiedermann says. "Over the last two years, I've performed hundreds of life-saving interventional procedures."
He continues: "I plan to stay here for several more years and hopefully establish a self-sustaining cardiology program which will be able to serve the people of Guam for decades to come."
Plans for the future
"I don't think my time in Guam is going to be permanent," Dr. Wiedermann says, "because soon I'll have grandchildren, and I don't want to be 10,000 miles away. I'll eventually return to my locums agency and pick up assignments on the mainland where I can just fly home on the weekend every once in a while and see the kids."
Dr. Wiedermann jokes that in Guam he's essentially considered the "president of Robinson Crusoe's island," and he wants to make sure the island can run smoothly without him before returning stateside.
"I'll return home to the East Coast to pick up locums assignments once I'm certain the interventional cardiology program at the hospital in Guam is well-established. So far I've recruited another cardiologist and an electrophysicist," he says. "I'm trying to build them a program, so that when I leave they'll have something that'll be lasting."
He doesn't regret his decision to come to Guam as a locums. On the contrary, he reflects, "It's deeply joyful to be able to have such a clear impact on medical care and to care for the Guamanian people, who are a warm and truly hospitable community."
RELATED: Three months in Guam — The experience of a lifetime for one locums physician