Right out of residency, emergency medicine physician Dr. Ali Chaudhary took a position at one of the top surgical centers in the nation. Two years later, another opportunity presented itself: a physician he worked with said he'd decided to leave his permanent job and work locums full time.
"He mentioned that within a year of working full-time locums, he was able to pay off a large chunk of his student debt," he recalls. "That made me aware of what locums was. Having known a colleague who'd done it before and who explained how it works was probably one of the main things that got me started in locums."
The misconceptions and the decision to see beyond them
There seem to be some persisting concerns about working locum tenens — and Dr. Chaudhary was no exception, at least right off the bat. But they were dispelled as soon as he began working locums. The amount of money he was able to earn, and the ability to create his own schedule to the benefit of his personal life — not the other way around — cemented his decision to work locum tenens full time.
Two benefits of locums are particularly attractive to Dr. Chaudhary: personal and career independence. "I don't like being told what to do, so now I create my own schedule," he says. "No one forces me to work a shift, I don't have to commit to a certain number of shifts. I vacation when I want. I felt stuck in terms of the grind of having to work shifts regularly."
Choosing his ideal schedule with the flexibility of locum tenens
He currently chooses to take assignments within driving distance, but he chooses to stay right by the facility while working, rather than commute back and forth. So when he's working, he's there to work. But on his days off, his family has his full attention.
"I'll stay away from home during the assignment," he says. "I typically work eight total shifts a month. My assignments are usually on alternate weekends, so Friday through Monday every other week. That makes 22 days a month that I'm not working clinically."
When he's on assignment, he works to maximize his hours so he doesn't have to work as many shifts. "At one assignment, I work 12-hour shifts," he says. "At the other location, I typically work 24-hour shifts since it's low volume."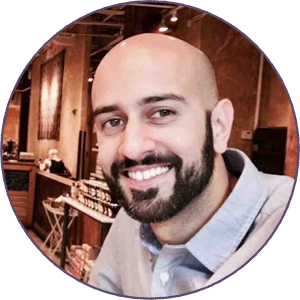 Exploring the world thanks to the perfect work/life balance
Dr. Chaudhary takes full advantage of his time off. He and his family spend three months a year in his home state of California; he also recently spent a large chunk of time in South Africa and Turkey. He values his time off, and fully appreciates the fact that locum tenens has allowed him this luxury.
"I think the ability to travel and do your own thing — whenever you want — is one of the greatest benefits of working locums. You can't do this in a full-time job."
The new-found balance between personal and professional life
Dr. Chaudhary uses his spare time not only to travel but to spend quality time with his family — much to the delight of his wife. He also has time to dedicate to his blog, locumguru.com which he uses to "inform and shed light on locums as a life, as a career, and as a lifestyle to allow physicians to be more fulfilled."
His blog targets physicians who are unaware of the benefits of locums. He feels obligated to make sure his colleagues are aware of the impact that working locum tenens can have on their lives, especially in ways they aren't aware of. Dr. Chaudhary feels that once doctors learn more about this career option — whether they work it full- or part-time — they'll take the leap. The pay, the schedule flexibility, and the independence are too good to pass up, and he wants to make sure they know about it.
"I think it has more weight coming from a fellow physician who's actually working it and experiencing its benefits," he shares. "With what I've been able to accomplish on my time off, I felt it was important for me to let them know."
A new way of life, and no looking back
Without hesitation, Dr. Chaudhary insists he'll never work a full-time, permanent job again. He loves the ability to practice medicine at his own pace; being happy about the fact he can spend more quality, patient-focused time without having to think about being inundated with so much paperwork; and the chance to spend time with his family. When he works, he's all in. When he's off, he's unplugged and unstressed, knowing that he doesn't have to worry about work when he's not on assignment.
"There's no way I'd go back to conforming to what other people want me to do, the schedule they'd dictate for me," he says. "I can create my own path and the lifestyle I want."
Dr. Chaudhary says that his career working full-time locum tenens has been a "revelation."