Dr. Peter Kim was hit like a ton of bricks when a workaholic friend passed away from cancer.
"He was an oncologist, and was involved in a lot of research and academics in a very prominent field; he just worked all the time," he shared. "It was kind of a shock. I have three kids, and it was just one of those things where I decided I wanted to spend some more time with my kids while they were still young."
Death can bring some clarity to one's life. It's a reminder we're mortal, and our time is fleeting. It reminds you to appreciate what we have, and to remain in the now.
As a result, Dr. Kim decided to retire from his full-time position at Kaiser Permanente in Colorado, and practice medicine exclusively through locum tenens on a flexible, part-time basis.
"I'm averaging maybe two days a week working locum tenens, so around one to two weeks a month," Dr. Kim says.
Living in the moment, and thoroughly enjoying it
With all of the free time his schedule allows, he has decided to homeschool one of their children, and locum tenens has allowed him to be fully involved in his children's sports – even being able to take on the task of coaching their baseball team.
"I have three children, and my wife and I homeschooled our twelve year old, which was interesting and fun," he says, "and I've been busy with their sports teams. I can even do some yard work," he quips.
The added free time – without the burden of worrying about what's awaiting him at work when he returns from break – has allowed him to spend more time fully enjoying what he loves to do, as well as pursuing and learning new things.
"I fly fish, so I bring my fly vice and tie flies in my free time. I read more. I'm kind of an amateur investor so I do a lot of research in that field," he says. "And I can exercise."
Locum tenens has some lesser-known benefits, one of which can have a profound effect on a physician's health.
"I find I sleep better," he says. "I never realized how stressful my permanent position was. Those things that weighed on me are no longer. When I come back from these assignments, my wife and kids are super happy to see me. It's been really wonderful."
The ability to travel without the worry about the practice left behind
Dr. Kim really loves to travel, and because he homeschooled his son he decided to make a trip overseas part of his curriculum.
"He wanted to go to London," he said. "I was able to go with him for over a week without worrying about what'll be waiting for me at the office when I get back."
He's also appreciated the fact that he doesn't have to plan his trips six months in advance, as he had to when working in a permanent position. He's able to be more spontaneous.
"One of the great things is just being able to spend time with my family and exploring new areas of the country," he shared. "We love the outdoors, so being able to take an assignment in Wyoming allowed us to camp, fish, do some backpacking, and even taking a drive through the more scenic areas of Wyoming that I've always wanted to see."
Locums has also allowed him the time to pursue some of the lesser-known treasures of the U.S., specifically in certain parts of the West. His assignment in Wyoming planted him near many of these places.
"I'm able to take road trips, and some of my travels through Wyoming were particularly memorable," he says. "The terrain is really pretty and I was just an hour or two from Yellowstone. You're between the Big Horn Mountains, kind of in a little geographical bowl."
"You'll find a lot of ranching and early settlement history there," he continues. "I can always find small local museums about the early settlers in the 1800s, so one of my first stops is somewhere I can learn about the local history and geology."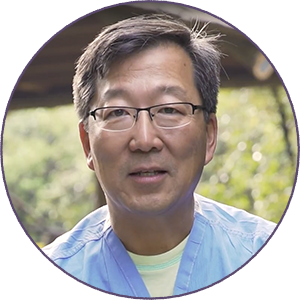 Assignments available nationwide, or close to home
At this point in his locum tenens career, Dr. Kim has enjoyed taking assignments solely in the West, as this region is closer to home and allows him to spend more time with his family – and enjoy his leisurely pursuits.
"I can choose to not take assignments where I'm away from my family too long," Dr. Kim says. "Usually the longest I'm away is about a week. Other times I've found that there's plenty of work locally or within commuting distance. It's been quite the blessing."
He's also found that he enjoys assignments in more rural locations, and he hasn't found these difficult to find.
"I did like going to Lamar, which is in Southeastern Colorado so it's kind of a small, rural farming community. I enjoyed that," he says. "The folks there are just very down to earth. It's a nice smaller hospital. It kind of reminds me of when I worked for the Indian Health Service in a little 40-bed hospital. It was my first gig out of residency and it's been a lot of fun. I haven't had a bad experience yet."
To date, Dr. Kim has fully embraced his locum tenens lifestyle, treasuring the opportunity he now has to spend more quality time with his family – and brush up on his fly-fishing skills. He's finally able to practice medicine at the pace and in the locations he wants.