Dr. Colin Zhu is a family practice osteopath whose mother is a practicing physician in China, so the holistic approach to medicine was instilled in him from an early age. Eastern medicine — rather than the one-size-fits-all treatments typically prescribed in Western medicine — looks at the needs of the individual and their unique body in an integrative, preventive way, and can be a tool in the toolbox of a physician hoping to address and treat the prevalence of chronic illnesses. Dr. Zhu also has a passion for cooking, and has found this has become an integral part of the way he practices medicine.
"I find that food is medicine, and it can be one of the best solutions to fighting America's chronic disease burden," he says.
He's dedicated his life and career to the health and well-being of his patients, and has even created his own website, chefdoczhu.com, which broadens the reach of his message of the benefits of integrative medicine. The Chef Doc, as he's also known, has used this outlet to show the public how incorporating nutrition into one's life can be a powerful tool in medicine and one's overall health. Dr. Zhu's three tenets are:
Culinary medicine, or food as medicine
Lifestyle medicine, or using evidence-based approaches to address lifestyle-related disease
Thrive medicine, or the driving force to your uninhibited passions
"I use my culinary background and marry it to medicine, and show how food can be used as medicine," he shares.
In addition to osteopathic medicine, he studied health-supportive and plant-based culinary arts.
"This extensive immersion education combined with my own life experiences was my soul's inspiration to create TheChefDoc," he says.
He helps his patients empower themselves to not only enhance their quality of life, but also that of their families and, by extension, their communities.
Locum tenens and the ability to live a "nontraditional life"
Dr. Zhu has a passion for travel, and has found that he's able to use locum tenens as a way to incorporate his career into his love of the culinary arts and medicine, and exploring the world. To this point, he's visited 29 countries, and recently made it to Antarctica.
"Locum tenens allows me the freedom and autonomy to be able to dictate the type of lifestyle and work/life balance that I seek personally," he continues. "I have more time to pursue my other passions. The more that I can improve the way I take care of myself, the more I can dedicate more quality time to my patients."
The flexible schedule locum tenens allows gives Dr. Zhu the opportunity to see his family more often, travel, and pursue his passion for the culinary arts and educating as many people as possible about how nutrition and one's overall health and well-being are intertwined. He travels around the world speaking at medical conventions, medical residencies, and nonprofit and specialty events, highlighting his three tenets as well as the transformative nature of nutrition in medicine. Locum tenens has made all of these pursuits a possibility.
More time to focus on patient care
Dr. Zhu's discovered that without the administrative burdens that come with a permanent position or owning his own practice, he's found that he can spend more quality time with his patients.
"I can educate my patients more because I have more counseling time," he says. "My patients really, really appreciate this. I can spend more time explaining their disease process. I don't have to worry about politics, red tape, or bureaucracy. I can autonomously practice medicine. It's kind of like being a free agent in basketball."
Being able to spend more time with his patients has been rewarded with happier and healthier patients, who constantly let him know that he's the first doctor to have taken the extra time to thoroughly explain their diagnosis.
"To them it's more fulfilling, and it's more fulfilling to me because I'm teaching them what's going on in their body and with their health, and with time and education they're empowered to do things in a different way, rather than just taking a pill," he shares.
Living the life of a locum tenens doctor full-time, Dr. Zhu has found that the work/life balance translates into better patient outcomes.
"The more I can improve the quality of my life and by taking care of myself, the more I improve the quality of care I impart on my patients," he says.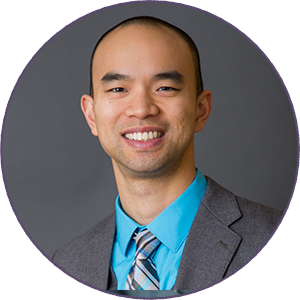 Flexibility of locum tenens to pursue your dreams
"I work locum tenens because I enjoy the work that I do. I give quality service to the patients that I do because locum tenens is a great vehicle and eliminates all the other stresses that I don't have time to worry about," he says, "which would come with being employed somewhere full-time. I get to dictate my own lifestyle and practice medicine and treat patients — the way I feel it should be."
And without the ability to control when, where, and how much he works with locum tenens, Dr. Zhu wouldn't have been able to achieve his goals.
"Without locum tenens, I wouldn't have been able to take in and fully embrace all of life's vast experiences; always continue to not only grow, but thrive, both in my personal and professional life; and share and give back to my audience in meaningful, valuable, fun, and entertaining ways."