Dr. Jim Mock was introduced to locum tenens during his residency in 1992, while training to be an emergency room physician. In 2009, he decided to take the plunge into working locum tenens, and has done so ever since. Initially, it was part-time in addition to his permanent position, and then he felt it would suit his lifestyle to work locums full-time.
"Initially, I was doing locums in addition to a permanent job. And then after the perm job got more and more difficult to negotiate I just switched to full-time locums. And I never went back," he says.
Dr. Mock likes the fact that locums gives him the ability to take assignments close to home. He's able to spend more time with his family, and can pick and choose assignments with schedules allowing him to maintain a perfect work/life balance.
"The nice thing about locums is when I work full-time locums I can coordinate my schedule better with my family's schedule so I don't have to miss things," he shares. "I've actually been around most of the time."
He's even currently on an assignment close enough that he can simply live at home. This flexibility of being able to choose locations is one of the reasons he plans to stay working locum tenens indefinitely.
The fast pace of emergency medicine and NASCAR
Emergency medicine is, by definition, a fast-paced specialty. Physicians can expect to see anything from a simple laceration to a major cardiac emergency, and the hours can be grueling. But it's undeniably exciting.
Dr. Mock experienced this first-hand while he was the director of medical services at the Darlington Raceway for about eight years in Darlington, South Carolina, near his home base of Myrtle Beach, South Carolina. He enjoyed it so much he has since returned to working with NASCAR. He's worked at the Darlington Raceway and then again at the Chicagoland Raceway this past year.
Dr. Mock said he was lucky enough to travel up and down the eastern seaboard to different raceways working on safety issues, helping to standardize safety measures after Dale Earnhardt's tragic death.
"All the different raceways had their strengths and their weaknesses and what we were trying to do with NASCAR was standardize the medical care at all the different raceways, which we did."
Dr. Mock said one of the most thrilling parts of this job was the chance to ride in what's known as the "chase truck."
"Whenever you see the pickup truck with the flashing lights go out in front of them in a caution, that was the truck I was in. They call it the 'chase truck,'" he shares. "If there is a wreck on the raceway the chase truck goes to the wreck and has officials to secure it. Then there are two physicians to tend to the drivers. I was one of the two physicians in the chase truck at both Darlington and Chicagoland this year."
"It's the best place to be; it's the most exciting place to be on the raceway, I can tell you that," continues Dr. Mock. "There's nothing more exciting than flying around the raceway at 90-100 miles an hour in that chase truck."
Controlling his schedule with locum tenens
"My experience in emergency medicine has been that you can either work when you want or where you want but you generally can't do both," he shares. "What locums does for me is it allows me to work when I want, and it also allows me to have total control over my salary and where I want to work. I can set a goal of how much I want to make, and I can arrange my schedule the way I want. Doing locums is the only way that I've found this is possible."
Not only did many of Dr. Mock's colleagues work upwards of 200 hours per month, which is stressful in itself, but they have to deal with administrative and contractual issues that may pop up. He appreciates the fact that he for the most part only has to worry about showing up for his shift.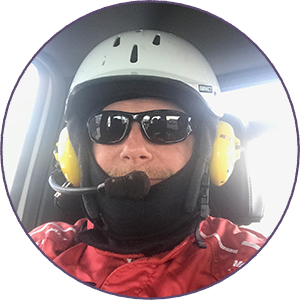 The flexibility of locum tenens in the face of a medical emergency
Recently, Dr. Mock had a health scare. While recovering he's currently unable to fly, but he found a locum tenens assignment locally so he could not only continue working, he could also control the hours he worked to accommodate his medical needs.
"I've had to minimize my traveling. But I'm working locums in my local area and had to scale back on my hours," he shares. "Since I wasn't able to fly, I found assignments within an hour's driving distance."
"I can work a full schedule right here from home when I'm able," he continues. "Locums assignments are available locally, and this allows me to heal while still safely work. I didn't realize that was a possibility."
Dr. Mock has chosen to work between 14 – 16 shifts per month, translating to about 140 – 150 hours, and he's chosen to work locally for now.
"Working locum tenens, I don't miss any holidays with my family since I control my schedule. If I wanted to take off for a vacation I just have to choose assignments that allow for that, which there's not really any other way you can do that in medicine," he says.