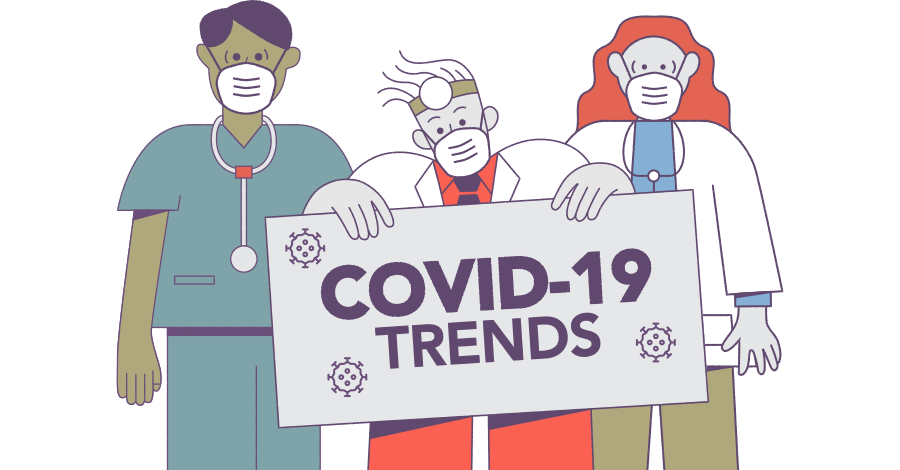 One of today's biggest questions is: when will COVID-19 finally be defeated so that we can get back to "normal" life? According to a survey of physicians by Sermo, conducted in late March, 96% of physicians in the United States believed at the time of the survey that the coronavirus pandemic hadn't yet peaked. 90% believed that we will likely experience a second outbreak in the weeks ahead.
The effects on healthcare in response to the pandemic have been profound. Most states have temporarily lifted or reduced restrictions on licensing, and telemedicine is exploding. How will this new post-coronavirus environment affect locum tenens? It's clear that locums will continue to be important to the success of our nation's healthcare system, but only time will tell how quickly things will get back to normal. Here's what we know today and what we expect in the months ahead.
The impact to locums
The COVID-19 crisis has had a dramatic effect on the locum tenens industry. The mobilization of the healthcare system to fight coronavirus has resulted in a dramatic drop-off demand for some specialties with many cancelled or postponed elective surgeries and procedures as resources are rerouted. On the other hand, there has been an increase in demand for specialties like infectious disease, pulmonology, hospitalists, emergency medicine, and critical care. In addition, many locums physicians have chosen to cancel planned assignments for a variety of reasons, from health and safety concerns to a desire to help closer to home.
Although we expect the demand for the all specialties to eventually rebound — many of the available opportunities today are focused on COVID-19 or telemedicine jobs. With over half a million reported cases of COVID-19 throughout the United States as of mid-April, it isn't too late to raise your hand to join the fight. Many locations throughout the U.S. are still considered hot zones, and the need for locums physicians, PAs and NPs is increasing in critical care specialties. Since the outbreak — 47 of the 51 states have lifted licensure requirements, and many state medical boards are allowing emergency licensing for qualified medical personnel, which is making it easier for many physicians and APPs to get to work more quickly in those zones.
Telemedicine opportunities
As more shelter-in-place directives have been put into place, telemedicine opportunities have surged across the United States. Medicare has also dropped its barrier to telehealth and is now allowing more virtual visits to be reimbursed. According to the Sermo report, half of physicians surveyed believed the current restrictions won't be lifted until mid-May. During this period of social isolation, telemedicine jobs are a way to continue practicing medicine, and locums physicians and APPs who are willing to adapt to this virtual care model are in high demand right now. Practicing virtually has proven itself as a viable alternative to in-person care when there is such an acute need to take away some of the stress that both healthcare workers and their patients are feeling.
Addressing burnout after the pandemic
A majority of physicians surveyed by Sermo reported that they felt under extreme or moderate stress. Once the pandemic is over, many front-line healthcare workers will likely be experiencing symptoms of burnout. Bringing in locums to give the permanent staff time some much needed time off may be a good way to help relieve burnout. And some physicians and APPs may opt to decompress by working locum tenens on a part-time or flexible schedule basis in order to have more time for themselves or with family.
There's no question that locum tenens will once again allow doctors to jump in where they're needed most. It's just a matter of time.