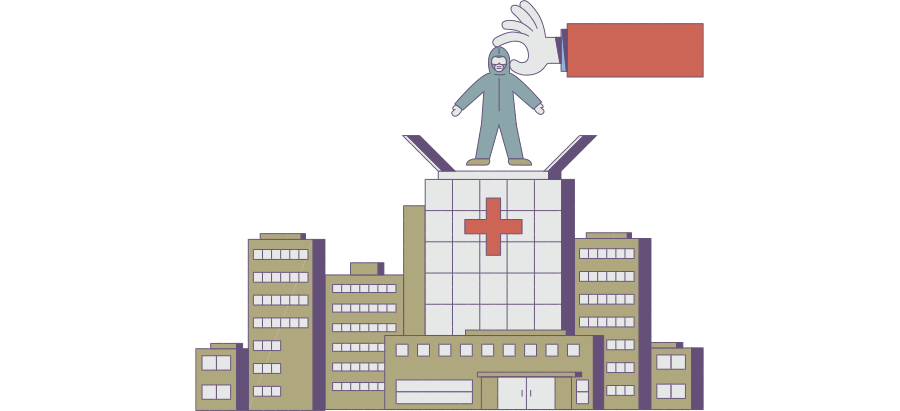 Ripal H. Patel, MD, MPH, shares his thoughts on how COVID-19 has changed healthcare and what it means for physicians.
I was on a run of four twelve-hour shifts in south New Mexico. I was exhausted, dehydrated, weak, and my back throbbed after having finished sewing up a patient's leg that had been flayed open from a tractor injury. As I wobbled back to my desk, I saw seven new patients had checked in. That flashing white of them being "unassigned" on our large TV patient tracker haunted me. I still had several discharges to do, finish a procedure note for that leg, then see what was remaining. Nursing hadn't notified me that any of them were acute, but the ER was in such chaos who knew.
I sighed, and bit my lip holding back the mental anguish. I think of all my colleagues that endure the same: caring for the most critical, feeling under-staffed, then having the entire rest of the ER to address. Always one hour behind on my job, I tell my residents. Always.
Relief…and disappointment
In the midst of this mental fogginess, I forgot my NP had arrived. She frowned when she saw me, asking how the procedure went. "Well," I replied. She smiled. "Well, don't worry, I saw all the new patients that checked in, so take your time."
Pause. Reprocessing what was just said. Then overwhelming relief.
It took me a minute for that to hit. I could relax for a bit, finish what needed to get done, and recharge before the new horde of patients checked in. More importantly, I could ensure my critical patient was properly managed.
The shift was coming to an end, and she came back up to me. "Not sure if you've heard, but they are furloughing all the nurse practitioners. They're saying the patient volumes are down, so they are telling us they cannot justify our pay." Before she went on, I stopped her. I looked at her directly. "I don't care what they say, you come in tomorrow. I'll never survive without your help. I'll pay you if I have to."
And so I did.
Gaping flaws in the infrastructure
COVID-19 rocked the core of the healthcare system. It unveiled gaping flaws in our public health infrastructure. And for a country that expends such a vast amount on healthcare, it exposed the pernicious, corporate side of medicine. Unlike other countries that retain their staffing when times are tough, during COVID, people were furloughed. And salaries and benefits were cut. And worse, for my residents that graduated from their emergency medicine residency, corporate staffing companies rescinded their contracts. So, after over a decade of school and training, as newly minted MDs, they were unemployed.
As a locums provider, I myself was furloughed from a hospital. As medicine becomes more corporate — as we shift more and more from being identified as physicians passionate about patient care to simply space-fillers for a schedule — I always knew this perception was becoming more prominent. And so, like a stock portfolio, I diversified. I diversified the amount of states I worked in, the types of hospitals I worked at, and the staffing models of the emergency departments (agencies, democratic groups, hospital-employees). So, when one hospital let us go, I had 6 others to work at. And when I was not sure how "safe" it was to keep continuing at the spot where my NPs were let go, I had several options as a safety net.
Considering all your options
So what options exist now in this pandemic? As I have said before and I reiterate again, our system is continuing to churn out an abundance of providers, allowing credentialing of procedures and skills broadly across multiple disciplines, and more and more people are gravitating towards larger cities. These cities in turn are being overrun by large staffing companies. This creates the perfect storm of a job that you may not want, hours you abhor, job insecurity simply because of the amount of people vying for your position, and poor pay. And thus I have now and will continue to serve underserved areas where physicians are in scant supply.
As the pandemic roars on, I have found job boards useful in looking for new employment (PracticeLink is one example). Locums agencies are always in tune with the needs across the country. But ultimately, I have found one of the best ways is simply word of mouth. That becomes easier as one does more locums, meets more physicians across the country, and becomes aware of needs in various states. In preparation for this, it never hurts to begin getting all your documents ready in an online system like Google Drive and working on state licenses.
What COVID showed us
COVID changed a lot, and really showed us what can happen when patient volumes go down, and what that can mean for the security of our jobs and our pay/benefits. It showed us that even the most essential workers on the frontlines can be furloughed, and the concept of having an ER "over-staffed" with an extra physician (because that makes the situation safer and is certainly not a risk worth taking) is not something most hospitals would engage in. It show us that, amazingly enough, hospitals that ALSO provide health insurance to their patients were doubly incentivized: getting premium payments for their patients — most of whom were not able to get any services done — while also taking in federal reimbursement money. And then staff were getting cut?
We let this happen. And thus, accepting the playing field, we can guard ourselves and cautiously move forward. Locums provides so many incentives — such as freedom with scheduling and simplified hourly billing — but it also provides a modality to provide job protection during uncertain times, allowing one to focus on why we became physicians to begin with: patient care.