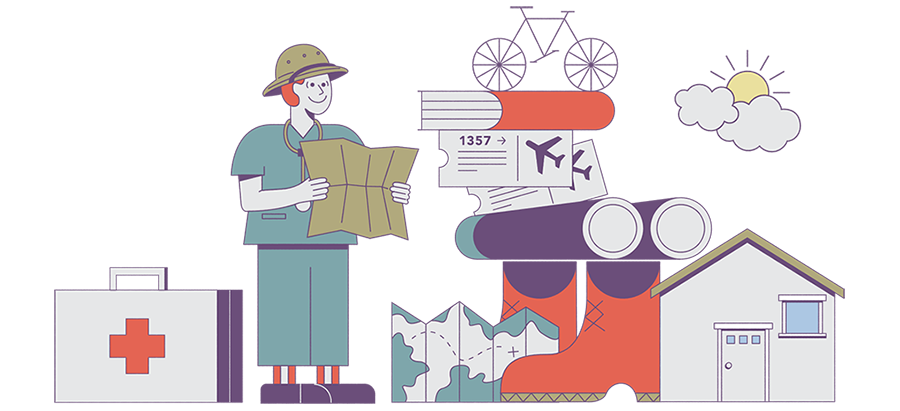 Whether you're a resident exploring your career options or an experienced physician looking for a change, locum tenens may be something you will want to investigate further. We recently interviewed two locum tenens veterans on their thoughts on how to get started in locum tenens, and they shared some of the tips and tricks they've picked up along the way.
What does a locums schedule look like?
Dr. Joan Pellegrini was working full-time as a trauma critical care physician and began to feel a bit trapped.
"After 12 years I was sort of looking for a way to not be so beholden to my set schedule, so I started doing a little bit of locums," she says. "I did a couple weeks the first few years and really liked it, so I began working it more and more."
"When I was full-time at the hospital I had about eight weeks of vacation and I took two of those weeks to work locums," she says. "I'm now still considered full-time, but I only have to work 30 weeks on and do 122 hours of call, so as long as I get those days in, the other 22 weeks are mine." Dr. Pellegrini has set her locums schedule around that, working six to 12 of the remaining weeks as locums.
Emergency medicine physician Dr. Rip Patel started working locums six years ago, and it has become his full-time job.
"I love to teach, so I've chosen to do academics one week a month and then locums the next three weeks," he says. "I like the freedom and control I have over my schedule."
Should I work with a locums agency? If so, should I stick with one?
Dr. Patel believes working with an experienced locums agency is a must when you are first getting started in locum tenens. However, he says it eventually depends on whether you'll be working locums part-time or full-time.
"If you'll end up working locums part-time, I would say working with an agency is nice because they make sure that everything us set up on time, such as travel and housing arrangements. This way you'll be all set before you start to work your first shift. As a full-time locums, I tend to get contacted directly by the facilities I work with."
Dr. Pellegrini's recommendation is that "just one or two agencies is the best way to go. They're going to help you get licensed, credentialed, and they know exactly what the paperwork is that needs to be done. Myself, I tend to do most of my critical care through one company, but trauma through another."
They both feel it's important to connect with bigger, more experienced locums agencies.
"They're better qualified to guide you through everything you need to know, things you need to address from your background check," Dr. Pellegrini says. "There are a fair number of physicians who have some red flags that agencies can help fix."
She says most of the CV red flags — such as being out of work for an extended period of time due to maternity leave or family illness — may make hospitals hesitant to credential, but "the agency can send you to a needier place to get your feet wet."
Other issues locums agencies can help with are things like lawsuits with big payouts or physicians having had to seek drug and alcohol treatment. Dr. Pellegrini says, "You may think having these issues are a nonstarter, but the agency can help with this documentation."
Dr. Patel agrees. "Going with an agency that is experienced and an agent who's experienced makes a world of difference."
"Having a seasoned locums agent is crucial," says Dr. Pellegrini. "I think it's important to have a recruiter with a lot of experience, and I think the big companies don't put brand-new people on the phone right away."
Since I'm now an independent contractor, how do I handle my finances and taxes?
Both Dr. Patel and Dr. Pellegrini prefer to get help from professionals for their taxes.
"I have an accountant who handles all of that," Dr. Patel says. "It gets a little tricky because I work in multiple states. I recommend independent contractors do their research. My dad is a physician and he takes care of all of his finances, but just like I'll call a handyman to fix something at my house, I'll hand my accountant my salary report and we'll discuss how much I'll give in taxes each quarter. It works out very well."
Similarly, Dr. Pellegrini says that if you like doing it on your own, go for it. However, be aware that as an independent contractor, you may be working in multiple states with different tax codes, and it can't hurt to get a little help.
"I use TurboTax as they specifically have a multistate option. You have to keep in mind things like you'll no longer have automatic deductions from your paycheck, like Social Security and state taxes, so this is a big help."
Will it be harder to manage all the necessary paperwork?
Always keeping your licenses, board certifications, and CV up to date is very important, and working multiple assignments in different locations can make it tricky to keep it organized. Dr. Pellegrini and Dr. Patel have their own solutions for keeping their documents in order.
"I have everything saved in an online cloud and alphabetized, so whenever the agency needs forms I just notify them, put stickies where I need to sign them, and they have access to my drive which has all my certificates, my board certifications, whatever they need; that's pretty much it," shares Dr. Patel.
Dr. Pellegrini says she does the same.
"All my information is on the drive. I have a CV that I can annotate every single assignment, and all the documentation is in one place," she says. "I have multiple licenses, so if people want to know where you've worked I have it listed there."
How does malpractice work for a locum tenens?
Dr. Patel and Dr. Pellegrini both stress the importance of thoroughly investigating what malpractice insurance the locums agency offers, and to ensure that you're fully covered. Many locums agencies offer malpractice insurance with tail coverage, but Dr. Pellegrini offers a word of caution: "If you go with a small company, they may not have the tail, so keep that in mind."
Dr. Patel says he goes with what the agency offers, but "if I'm not using an agency, I just use the malpractice the hospital provides. But I think it's good to work with a bigger agency that will be able to support you and back you if things come to that."
"Another consideration," continues Dr. Pellegrini, "is if you're using malpractice insurance from a hospital that might go through bankruptcy, you will pay for the tail when they go bankrupt."
Should I try locum tenens?
"Talk to somebody who's done it, see what their experience was like, try it out and go from there," Dr. Patel says. "It's definitely not for everybody, but there are a lot of pros: practice and lifestyle freedom, and the most important to me is practicing under my own terms. I think it makes you a better physician."
Dr. Pellegrini says she's very pro working locum tenens. "I think it leads to being a better physician. It just makes you a better physician to be exposed to multiple ways to practice. If you've been working in one place for decades, you get used to one way of doing things."
"Try it out," Dr. Patel says. To get started in locum tenens "you don't have to jump in full-time; maybe try it out part-time to see how you like it."