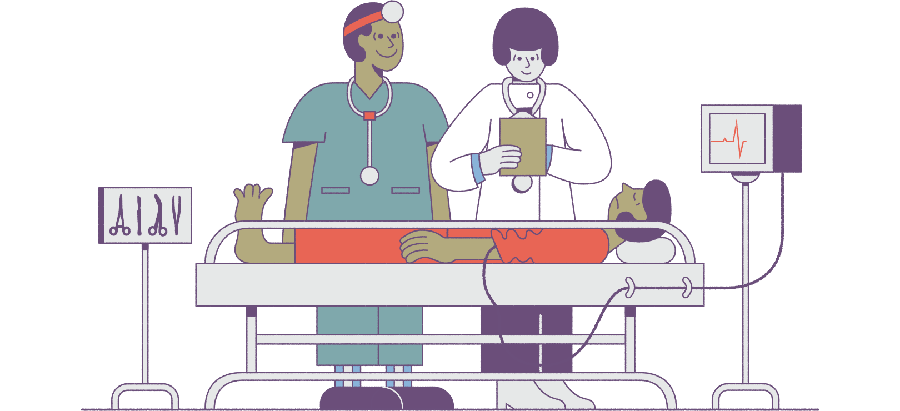 Physicians finishing their training may want to consider locum tenens as a career option right out of residency. Locums allows you to experience a wide variety of work settings, have more control over your work schedule, and earn higher pay than your peers who are just starting out.
That's the career path Dr. Mojgan Saber took right out of residency. She spent the first eight years of her career in locums. She now teaches at the UCLA-VA Physical Medicine and Rehabilitation Residency Program.
Dr. Saber knows her subject well, having worked locum tenens all over the U.S. She preferred locums assignments that allowed her to do what she loved most — teaching med students and residents. When she decided to settle down and accept her current job, having locums experience on her CV worked in her favor. "Locums actually helped me, helped me at every level."
What was true for her, she recognizes, may be true for some of the residents she teaches. "If you're not sure either where you want to practice or what kind of practice you want — or if, like me, you want to travel, locums is the best way to go."
She introduces every one of her students to the concept of locum tenens out of residency as a career alternative. And she's helped us compile five tips for residents interested in testing the locums waters.
1. Do your due diligence research
As a resident, Dr. Saber says she was ignorant about locum tenens. She spent several months post-residency traveling recreationally and was running out of money when a friend told her, "If you really need to work right away, locums is a good way to do it." She did some due diligence and quickly landed her first locums job in Miami.
For her, due diligence means learning all you can about locums, getting on the phone, calling locums companies, and peppering them with questions. In this way, you have the information you need to make informed decisions.
Brian McCormick, a pediatrics team manager for the locum tenens agency Weatherby Healthcare, says that taking the time to get the information you need is critical if you are going to get the right fit. Otherwise, you risk making hasty decisions that can negatively impact your locums experience.
2. Get the ball rolling early
Dr. Saber recommends residents start early if they are interested in locum tenens. "There's a process with locums," she says. "You have to fill out an application and give them your references, and those take time. Locums companies have been great in terms of helping with the process of licensing and privileging."
Another Weatherby Healthcare manager — John Hunter Jr. of the hospitalist team, recommends starting discussion with a locums company as early as nine months before you finish your residency.
"Talk with a search consultant as early as September or October," he says. "That way you can get an idea of where you want to begin getting your licenses, which really helps your marketability." Having two licenses increases marketability, as does getting your DEA license set up. The right locums company can help you navigate the processes required, gather paperwork needed for licensing and credentialing, and meet the timelines specified.
3. Tap into recruiter expertise throughout residency
An enterprising resident might think of touching base with a locums recruiter as early as PGY-2 to access the wealth of information that is available free of charge.
For instance, Hunter advises IM residents who are interested in locums to make sure they have enough ICU experience documented during residency. "85 to 90% of our jobs require ICU experience," he says. "An added benefit is experience doing procedures like lumbar puncture, central lines, or arterial lines. That puts you at the top when it comes to marketability."
McCormick tells his pediatricians-in-the-making to focus on getting experience in inpatient care, nursery care, c-sections, and delivery attendance. "The biggest thing is generalization. The more rural we get with a locums job, the more comfortable they will need to be across all of those skills," he says. "I encourage them to get additional NICU rotations. A doctor with a couple of NICU rotations and who is comfortable with circumcisions wouldn't have any issues finding locums jobs."
Recruiting experts exist for every specialty. Talking with a recruiter early will help you understand what skills and experience hospitals are looking for so you can be more competitive right out of residency.
4. Have the right expectations
Many residents seeking locums opportunities may learn that their dream location doesn't have locum needs in their specialty.
For hospitalists, Hunter says, "We don't really get the LAs, the San Diegos, or Houstons. Although we've had jobs in New York City and Chicago, most of our placements are rural areas or midsize cities, a lot in the Midwest."
Physicians open to assignments in a variety of locations are easier to place, says McCormick, who also recommends they be flexible in schedule and work setting expectations. "Honestly, the biggest hurdle is a fixed mindset around how things are supposed to go," he says. "So I challenge them to be open-minded."
Hunter agrees. A new doctor looking for, say, night shifts needs to be aware that new hospitalists are usually assigned day shifts, because there would be other hospitalists alongside you. "Most night or solo jobs usually look for somebody with more experience."
5. Be bold and try something different
Finally, Hunter points out how liberating locum tenens out of residency can be. "Residents don't need to be as hesitant as they would persuing a permanent job. Residents can push past what feels like a risk by remembering they have a 30-day-out if the assignment is not right for them."
"Urgency to get a job can put residents in a position of vulnerability," McCormick notes. "They think they need to be employed in July, so they accept an opportunity in the location they don't really want or take a contract that lacks productivity bonuses. Locums takes a lot of the urgency out of the equation so they can be patient and sign the right opportunity."
That's been Dr. Saber's outlook from the start, and she still does locums when she has a few spare weeks of vacation. "I always truly enjoyed everywhere I worked," she says. "But I figured, it's not permanent. When I go somewhere, the worst is they don't like me. Or I'm not enjoying working there. After a few months, we're done." She adds with a smile, "Lucky for me that never happened."