Did you know there's an annual event when Mainers welcome spring by collecting the syrup from their maple trees? And that it's known as "sugar shack"? Well, Dr. Ariel Alexandroni was able to experience this once-in-a-lifetime event they hold while on a locums assignment in Maine.
"They have the whole month dedicated to that event," Dr. Alexandroni said. "There will be tours of the sugar shack and how they collect the fluid, then they'll show you how they distill the syrup and all other parts of the process."
During this event, families are also able to sleigh ride and eat maple toffee made in the house, often in front of customers.
If he hadn't chosen this assignment in this out-of-the-way spot, he would never have known about it, much less experienced something that he'll remember the rest of his life.
Becoming a "temporary local"
Having the ability to immerse himself in the unique culture of every assignment's area and enjoy and explore what the locals do is something that makes each assignment memorable.
"If there's a play or something similar I'll try to catch it," he says. "If it's a small town, I'll join the locals at an event that you can usually only experience in a small town. Sometimes it's just as simple as a county fair kind of thing. Otherwise if there's something unique in the area, I make sure to check it out."
With locum tenens assignments in all corners of the U.S. – and even abroad – the opportunities for exploration are endless. Even though Dr. Alexandroni has only taken assignments stateside, he's never had a shortage of fun things to do.
"I was in Memphis and I got to go to all the cool Memphis music shows. I even went to see the Beach Boys one night," Dr. Alexandroni said. "On assignment in Washington I was essentially in Portland, Oregon, so I got to go to the beach."
"Everywhere I've gone has their own little thing even if it's a rural town; it has some charm that you probably wouldn't run into because you wouldn't go to that town otherwise," he says.
Try before you buy
In addition to the opportunity to travel to different parts of the country and absorbing the unique culture of each location, locums allows him to treat each assignment as a kind of audition. At this point in his life, he's happy to stick with locum tenens assignments, as settling down with a focus on one practice setting is something he's not ready to consider. The try-before-you-buy model is working very well at this point in his career.
"When you're working there for a few months people get to know you, you end up knowing people from outside of the clinic and from other specialties and if you're able to work well with others then it definitely shows pretty fast," he says. "It can be seen as an audition for the hospital to see how you are fitting in and then you can also experience the hospital and the environment and see if that's something that works for you."
After one particular locum tenens assignment in sports medicine, he decided that while he enjoyed the assignment it wasn't something he would enjoy doing day in and day out; locum tenens made it possible for him to test drive that particular position and not be stuck in a less-than-ideal job.
"If I had to do that particular sports medicine job in that type of setting all the time I might get bored," Dr. Alexandroni says, "but I'm able to do a little bit of outpatient sports medicine in one place and then at the next place do more inpatient. And then at some places they have a combination, so I get to enjoy a little bit of both."
Having the opportunity to explore different types of practice settings and having the opportunity to explore his preferences has been an invaluable benefit of working locum tenens.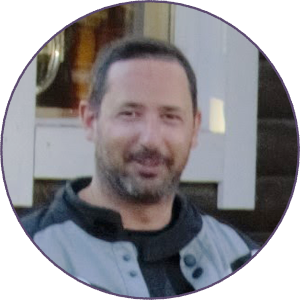 Experience-building opportunities, rather than obstacles
Even though locum tenens is inherently a "traveling occupation," and with it comes challenges, Dr. Alexandroni says these can become character-building experiences.
"Every time you're in a new place you have to learn a new system and meet new people," he shares. "You're basically starting a new job every couple months, so that's challenging but that's also part of the fun; you get to challenge yourself at every place because you have to learn and adjust quickly."
A couple tips he shares for ensuring a successful assignment and minimizing problems are to ask questions, clarify assignment expectations, and be proactive and ask for help when needed.
The ultimate benefit of locum tenens
Dr. Alexandroni believes locum tenens is the only way to go in a physician's quest to find the perfect permanent position, if that's the ultimate goal. It may also prove to be the only way a physician will want to practice medicine.
"I find that I enjoy traveling more than I would just staying in one place," Dr. Alexandroni says. "I think if you are looking for a permanent position this is a great way to do it. For me, I found that I enjoy moving around more, but if that changes I think it's very easy to find a place that you like working and stay there permanently."