Mom of three. "First lady" of a megachurch. Head of a medical clinic in Haiti. Orthopedic surgeon. Author. Instagrammer. Dr. Sonya Sloan does it all. Having worked locum tenens since 2006, she's found that she's able to do it all – with a little help from the "village."
"I want to focus on other ventures in life, not just medicine. Locums did exactly that for me, it afforded me the opportunity to have a life on my own terms," she says. "I was able to be at home, pick and choose where I was going to travel, make great money, and then take time off to be with my family."
Dr. Sloan has chosen to live the life of a locum tenens doctor for 12 years, sometimes picking assignments as short as five days, with the occasional six-month stint. Right now, Dr. Sloan is working with an underserved population in dire need of a physician. She describes how rewarding it is to work these assignments, knowing she's providing a much-needed service.
"The patients appreciate what you're doing for them, and you know that what you're doing is making a difference."
This assignment, just outside of Gallup, New Mexico, has her working with a population consisting of four Native American tribes through the Indian Health Service, which she somewhat equates to working at a VA hospital.
"The Indian Reservation pretty much surrounds that whole area, I mean, miles and miles and miles. Navajo, Zuni, Hopi, and Chippewa Indians. The Navajo is the one that's contracted through IHS," she says. "Not only is it rewarding, but it's pretty cool. You see a lot of interesting stuff and it's by no means dull or slow. It's a very busy practice there.
Growing pains, and helpful tips from Dr. Sloan about working locum tenens
Although Dr. Sloan has a mostly positive perspective of locum tenens, she has some bits of advice and helpful tips for those wanting to learn more about locum tenens, or who are taking their first assignment. Initially, her concern was being away from her three kids for an extended period of time when she takes non-local assignments.
"Finding someone to take care of my children if I take them with me on assignment is tricky at times, but it's always worked out," she says. "Once I had to fly my mom out to help when my daughter was ill and I wasn't able to get away from my contract work. But I've been blessed to have people go out of their way to help."
Missing "firsts" has also been a downside, although she says the money she earns with locum tenens has allowed her and her family to take several trips throughout the year where the only focus is spending time with family.
"Sometimes you miss some things. I missed my son's first steps. We were face timing when it happened but it's not the same. I missed my daughter riding her bike the first time. Missed lost teeth and some other things but for the most part it all works out," she says. "Because what I've learned is you can't be at all places and all things to all people all the time."
Locum tenens makes it all worthwhile in the end, though, because she's able to focus on her assignment when she's working, but then when she's not working she can fully focus on and prioritize family time.
"We've gotten really big into vacations now so our thing for our family is we do two to three really great trips a year," she shares. "I've learned to say no and pick and choose what assignments I take. Our latest vacation was just our family, great beach and pool time, quality time. So when we get home and the next week mom is gone, it's not as hard."
Finally, since locums are independent contractors, Dr. Sloan recommends hiring a CPA.
"You have to know the business side of money, you have to be smart. Hire a CPA," she says.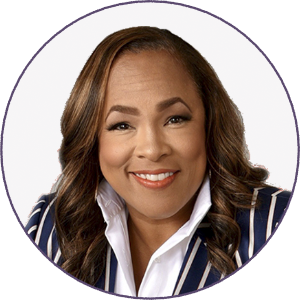 Locum tenens and the time to make a difference
Making a difference is a passion she shares with her husband, who is a senior pastor of a large church. She's helped lead the church's health ministry team, and they built a medical clinic in Haiti where they travel to help a population in dire need. Mission work is a priority for Dr. Sloan and her husband, and she's found locum tenens gives her the flexibility to serve.
"I had 'first lady' duties which comes with being the wife of a pastor. I've helped lead the health ministry team; we recently built a medical clinic in Haiti. We travel twice a year to Haiti to deal with our medical clinic and the mission work that we do there. We're going in October," she says. "So I have other ventures in life I want to focus on, not just medicine. Locums did exactly that for me: it afforded me the opportunity to have a life on my own terms."
Not only are they committed to using their church to help when and where they want, their duties as representatives of this church require a significant time commitment. On top of her charitable work, Dr. Sloan works behind the scenes, doing things such as building their website.
"Locum tenens allows me time to accommodate our church schedule. There are some major events I have to be at as the wife of the pastor. We travel. There're just some times I can't work or I'm not willing to give up that time I want to spend with our church's charitable work. I think overall it still allows me to have a pretty big impact," she says.
As if all this weren't enough, Dr. Sloan is writing a book, The Rules of Medicine, which chronicles the day-to-day experiences of a doctor. They're experiences doctors talk about with each other, but she thought it'd be an interesting what-to-expect book for upcoming physicians.
"It's a sort of sarcastic — somewhat cynical — what you should have known going into residency and medical school or the medical profession and no one told you, but everybody knows it," she explains. "We just don't really write it down. Like, rule number one: trust no one; not because people aren't trustworthy, not that you shouldn't try to make friends, but you're here to do a job as well as everyone else there, too."
She's also hoping to do a book tour, and working locum tenens rather than a permanent job gives her the opportunity to control when and how long to take time off to follow her dreams – every one of them.