Dr. Tuan Vo has his priorities: his job, travel – and nice climates.
"I want to be someplace with nice weather at the time of my assignment, so I'll choose a location at a time of year when they have good weather," he says.
As an osteopathic family physician, Dr. Vo has found the nationwide shortage of family medicine doctors has opened up many opportunities, giving him the ability to find that just-right location and climate in which to spend his assignment.
Being from Arizona, and spending his first assignment in Seattle in the fall ("My timing was a little bit off") cemented his decision to follow the good weather.
He's able to follow the good weather, both on assignment and when he's off. The flexibility of working locums gave him a two week break that let him travel to Hawaii and his friends noticed something different with him on his return.
"My peers will see me and they'll say, 'Man, you look so refreshed. You look great.' I'm like, 'Oh yeah, I just got back from Maui. I had two weeks. It wasn't even my vacation. My workload is great. I work with great people,'" says Vo.
Discovering what the just-right location and practice setting is for him
As a recent graduate, Dr. Vo has found that locum tenens has given him the chance to see what's out there as far as practice settings and patient populations, and likes the try-before-you-buy capabilities that locums allows. To date, he's taken four assignments.
Dr. Vo said he did a lot of research before looking for jobs, and discovered that 50 percent of new graduates will change positions within the first two years. This statistic was an eye opener, he said, because it showed that many physicians discovered they weren't happy where they'd chosen to settle down, whether it be the area or practice type.
"I wanted to get outside of my comfort zone, learn some new things, see new people, I had colleagues who stayed at the same clinic and the same hospital and they're doing okay. But they said that they'll probably look for something else and it's only been about a year, so the statistics probably are correct," he says. "I didn't want to be pinned down by a permanent contract right off the bat, and a friend told me to try locums. He said it will probably make you a better doctor because you have to work in a new place with new people and it will just give you some more flexibility to kind of do what you want."
He notes that residents sometimes sign a contract for up to six years, which is a daunting prospect. The physicians may find they don't get on well with staff, the patient population isn't the right fit, or the hours or patients per day are overwhelming.
"It's kind of frightening because it sounds okay, but once you become a physician they can really push you to do what they want and you don't have a ton of say in what your needs are," he comments. "A lot of times you have competing wants, like the company wants you to work so many hours or see so many patients, and it really interrupts your lifestyle. That's what you have to do and this was a great opportunity to avoid those things. You know, I'm kind of a free bird."
Caring for a patient population in need, and overcoming obstacles while gaining valuable experience
After a friend recommended locums, he thought it would be a great way to explore the many different opportunities for family practice physicians. There were positions in hospitals and private practices, and nonprofit clinics. One particularly memorable job for him was an assignment at a community health center in Seattle working with a particularly underserved population.
"I had the chance to work with refugees from Syria, Morocco, and the Congo. I met a husband and wife who had just been accepted into the state and had just passed all their screenings. Refugees have to get vetted, which entails two or three years' worth of screening and then ten years on the waiting list," he says.
He found that his patients were extremely grateful to even be treated by a physician, and had waited years to be seen, the result of which were illnesses going undetected for up to 10 years.
"Just meeting these people was a really amazing experience I don't think I would have gotten if I had stayed where I trained. That's a specific experience I'll never forget," he shares. "I think locum tenens fills a need in areas a lot of people don't work in like the VA or community health centers or rural areas, and I just get to meet normal everyday people who really appreciate someone coming out to help them."
He notes that his current assignment is in a VA clinic, and he's found that working in a government-funded facility has its challenges, one of which is poor communication and some disorganization. Despite this, he's happy he took the assignment and feels it has given him valuable experience he wouldn't have if he'd never tried locums.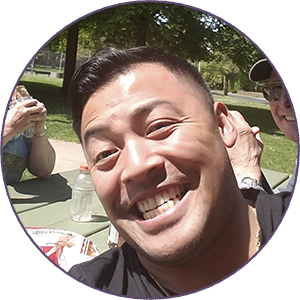 Why locums is the perfect job, at the perfect time
As a recent graduate, single man, and "father" of four dogs, Dr. Vo found that locum tenens was the perfect way to kick-start his career, travel, and, as a people-person, meet new people.
"I go out. I see what the city has to offer. I'm a foodie so I check out all kinds of restaurants," he says. "My thing is whenever I get to a new place I go to a Thai restaurant to see if it's good or not. I meet people all over the place. I connect with friends I haven't seen in a long time as well those who live in those cities or who live nearby. I have a friend who lives in San Diego that I'm going to visit and I wouldn't have the opportunity to do that if I wasn't in the area."
Dr. Vo has found that locum tenens has fulfilled his needs and wants at this time in his life, and has given him perspective – both personally and professionally – that he wouldn't otherwise have found.
"I decided to start to do locums because it allowed me the freedom to set my schedule, to be my own boss, to have autonomy, to kind of float freely if I wanted to take time off and see new places, meet new people, and really broaden my perspective on medicine and just work with different people," he shares. "I'm a happy, career locum tenens right now."