The nomadic life suits PA Cara Bosco just fine. She works when she wants, and doesn't when she doesn't. This has allowed her to fully pursue her passions in life: rock climbing, biking, hiking with her dog, and yoga. She not only enjoys her recreational passions, she also dedicates her time between assignments to giving back.
The origins of a career in healthcare
Cara was initially drawn to being a healthcare provider out of necessity. While being a wilderness backpacking guide with NOLS, a nonprofit global wilderness school, she discovered that during remote outings there was a desperate need for someone with more extensive medical training. This gave her the push she needed to become EMT-trained. It was while working as an EMT that she realized the fast pace of emergency medicine was for her.
"I did my EMT class and fell in love with the ambulance rotation," she shares. "Prior to that I didn't think I could handle blood or guts, but when I learned the science behind it I was fine."
She felt the progression from being an EMT to PA school was just a natural progression in her life. However, she found PA school to be fairly challenging since she was accustomed to working seasonal jobs not following a strict, consistent school schedule. However, once she became a PA she found locums work suited her lifestyle to a T.
"That's why the locum thing works really well for me," she points out. "It's not your typical standard job with a set schedule. It's important to me to be able to travel abroad to Tanzania, which is my second home."
Discovering a love of giving back, and how locums makes that passion a reality
While in college, Cara spent a semester abroad in the African country of Tanzania, and immediately fell in love with the people and the culture. She spent those first six months there doing wildlife research and became really close with her host family, and dedicated herself to learning Swahili.
Her experience in – and love for – Tanzania was an integral part of her commitment to strengthening the visibility and use of emergency medicine advanced practice practitioners there. Cara's been working with an organization in Charlotte, North Carolina, that is dedicated to that purpose. She's found that Tanzanians' experience with medicine is much different than ours. Rather than have what we take for granted, things like easy access to healthcare providers and preventive medicine, Tanzanians typically are only seen in a medical setting when their situation is dire, either because of the distance and difficulty of getting to a healthcare professional earlier, or they didn't feel their situation was an emergency – until it was.
"Their resources are vastly different and the acuity of what they're dealing with is sometimes vastly different just because in Tanzania, people are typically really, really sick before they can get to the hospital," she says. "I got some thick skin getting used to suturing without lidocaine, and kids screaming and crying. Yet just 10 minutes later you give them some candy and they're fine. The resilience over there is phenomenal, absolutely phenomenal."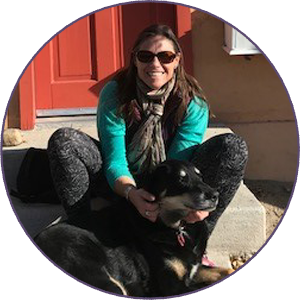 The opportunity to truly make a difference
In tandem with her goals of giving back to the Tanzanians on a larger scale, Cara had the opportunity to help a local girl in need. While working at an after-school program in a town called Singida, she encountered Pendo, a six-year-old girl who suffers from a debilitating skin condition called epidermolysis bullosa, which causes her skin to develop large, painful blisters with even the most minimal friction. Even ill-fitting clothing results in a painful reaction.
"It's hard for us to imagine living with challenges like that, especially under the circumstances in which she was living, but her [skin] condition is just part of who she is; she smiles and goes about her business. She's really smart, works really hard in school, and has great self-confidence and is an all-around great kid," she says.
Cara realized that Pendo's living conditions – a mud hut with a dirt floor, no running water, and no electricity – made it difficult to keep the number and severity of sores to a minimum. So on a return trip, she was able to secure Pendo a spot in a boarding school, and Cara pays 100 percent of the bills so Pendo and her family can focus on her education, health, and future.
How locum tenens perfectly fits into this PA's life
Cara has been working locums full time for one year, and doesn't regret a second of it. She's able to work when she wants, and take as much time off as she needs to do the work she's dedicated herself to in Tanzania.
Her primary reasons for working locum tenens? "Flexibility in my schedule and being able to take care of my dog."
She's chosen assignments in bigger inner-city facilities in Albuquerque, New Mexico, where she typically works for six to eight weeks. She's also found herself in Wisconsin in a more rural setting, where it seems everyone knows everyone else. At the moment, she's enjoying the variety.
"I feel like my medical toolbox is growing with each assignment," she says, "so I really feel lucky that I've had some great experiences and just awesome patients, for the most part."
For each assignment, there's a "getting acquainted" period, but Cara has been able to easily adjust with a conscious effort. "I think my biggest goal is to always go in there with my own emotional baggage left at the door," she shares. "I'm there for the patients' well-being. And in the end, we're all just people; you find your common ground and go from there."
"I like to work hard, and I like to play hard," Cara shares, "and that's why locums works really well for me. I can earn good money, but I can also spend time with friends and family in Tanzania, which is truly a second home. I'm also able to develop relationships in other countries and hopefully do more international work overseas, as well as in the U.S."
Cara can see herself working locums for a while, and would eventually like to take a tiny home with her for her housing while on assignment.
Why does the locums life suit Cara so well?
"Locum tenens enables me to love my job and love my life at the same time."