Becoming a PA seemed to be a foregone conclusion for Tony Martin. He says he's always liked helping people, and his first opportunity to do so came in high school when he became a junior volunteer at a local hospital for patient transport. That lit the spark for him.
Later, Tony joined the Pennsylvania Army National Guard and trained as a combat medic, and from there he entered a surgical technologist program. His fate was sealed.
"It was a yearlong program and I loved surgery," he recalls. "For some reason, I just like the blood and guts. I didn't want to simply hand the instruments to the surgeon, so I said I want to get in there and actually assist with the surgeries. That's why I became a PA."
The idea of spending years and years in medical school seemed daunting, and Tony said frankly he doesn't consider himself the "ultimately responsible person." That's why he likes being a PA who can assist in surgeries, helping out as he can, but still have a doctor to back him up. But once he's in the OR, he's focused, prepared, and early.
"When I'm in the operating room, I always like to be there well before the patient and the surgeon. I chat with the surgical techs and nurses to ensure all instruments are there and ready," he says. "It's good to have everything all set for when the doc comes in, that way they just come in and everything's ready and waiting for them to make the first incision."
Catching the hiking bug
Tony's been a PA for 26 years, and has been on 19 locum tenens assignments. He feels like locums complements his way of life, and plans to continue doing so for the foreseeable future. The origins of his locums story is a somewhat convoluted one.
"I wanted to try locums basically because I worked for an orthopedic surgeon for 17 years up in my hometown of Johnstown, Pennsylvania, and I lost my job there after I came back off my third deployment to the Middle East," he says. "I then moved to Oklahoma for another permanent job which didn't work out. I ended up moving to Las Vegas for another permanent position and then the novelty of Vegas wore off so that's why I looked at traveling."
His first assignment found him in Grand Junction, Colorado, which he enjoys going back to for many reasons: the hospital and neurosurgical practice where he works, the town itself, and the surrounding mountains. He likes it so much, he's taken five assignments there, and Grand Junction is where he caught the hiking bug.
"I was dating a nurse I met at the facility I was working who grew up in Grand Junction, and she got me into hiking," he recalls. "I had my first 14er experience there. I actually hiked two of them, and cursed her out the entire climb. I started getting some chest pain and I was cold. I really didn't know what to expect climbing up those 14ers, but once you do a couple it just gets in your blood."
For those not in the know, a 14er is a mountain peak with an elevation of at least 14,000 feet. There are 96 fourteeners in the U.S. — all west of the Mississippi — 53 of which are in Colorado. And once you get the bug, there's no turning back, Tony says.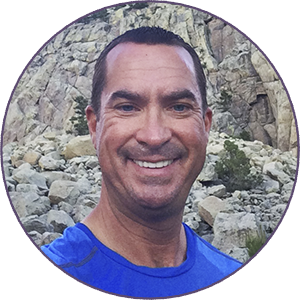 The benefits of locums outweigh the downside
Tony is a self-identified vagabond at heart; he loves the "gypsy" life. Being single with no kids, he relishes the opportunity to travel and meet new people, learn new things professionally and stay sharp as a PA.
"God put so many beautiful places on earth for us to see and I want to take in as much as I can before I die," Tony says. "I love traveling, I love sightseeing, I love hiking. I try to get out and see as much as I can on my time off. That's why I prefer to stay in a hotel so when I have time off I truly have time off. I don't have yardwork or housework, I just go."
His brother usually stays to watch over his home in Pennsylvania while he's on assignment.
"It makes it easy for me to travel and if I need to extend longer at an assignment, I can. I'm very flexible with that," he says.
Though Tony loves the locums life, he does mention one downfall: loneliness. He's found, though, that since he sometimes returns to the same facilities, those he works with know him and they just pick their relationship up where they left off.
"Sometimes it can be a little lonely," he admits. "When you come to a new place it takes a while to sort of get your bearings with some of the groups and coworkers. But once they see who you are, what your interests are, they know they can invite you to do things."
He also finds those coworkers who have the same interests, such as hiking. "In Colorado, there's a group called Trails and Ales, where we go hiking and then meet up for some beers afterwards. This has been a great opportunity to meet some new people."
Aside from the travel and sightseeing opportunities, Tony's found that locums is a great way to learn new techniques and see how a facility is run before you decide to sign a permanent contract.
"You can go in and work in an area with a practice, work in a hospital to make sure it's the right fit for you," he shares, "and in many specialties there're lots of ways to skin a cat, so to speak. For example, you can treat fractures non-operatively, you can plate it, you can put a rod in there, you can put an external fixer on if you need to. Seeing how all these different surgeons work is just a great experience."
Working locum tenens – as long as it's humanly possible
Tony feels the locums lifestyle suits him perfectly, and plans on working locum tenens for the foreseeable future.
"Locums enables me to travel and sight-see as much as I want, and there's no limit to what I can learn. Right now I enjoy traveling and being a locums so much that as long as it's fun for me to do and my body can still do it, I'm going to keep going as long as I can."