When you're ready to start working locum tenens, finding an agency who will put your interests first is critical. The recruiter you work with can make or break your first locum tenens experience. You need more than just a recruiter, you need an advocate who will help you find the perfect first assignment.
A little research goes a long way
With so many different locums agencies to choose from, it's important to do your research.
"I wanted to do my due diligence and make sure I was working with the right company and right recruiter. From all the research I did, the company seemed a solid one, and my recruiter Scott had taken good care of me," psychiatrist Dr. Bradley Hassell says. "So I took an assignment; it was hard work, but it was wonderful."
"They make my life easier because I don't have to worry about anything. All I've got to do is psychiatry. Do psychiatry, get a check. It's really that easy."
Listening and empathy
Hospitalist Dr. Janelle Jones was given the name of her recruiter from one of her colleagues and immediately found that she and her recruiter, Sarah Thacker, connected personally, which was important to Dr. Jones.
"She's picked up on my personality quirks and she's very accommodating and patient," Dr. Jones says. "There're times she just listens to me go off for a while, and she understands that I may just be tired."
After working together for 10 years, Sarah has come to understand Dr. Jones' needs beyond just a professional relationship. "You get to know people, you get comfortable with people and get to learn bits about their lives," she says. "It's important to listen and have an understanding of the doctor you're working with."
Listening is key to a good recruiter/locums relationship. And Sarah's ability to listen ensured Dr. Jones didn't work herself into the ground — which she is apt to do.
"I'm not really a high-volume kind of gal — I can do high volume for short stints, but then Sarah hears the fatigue in my voice and searches for things that are more up my alley," Dr. Jones shares. "She just knows when to stick up for me — which is the exact opposite of an experience I had with another locums agency. They just wanted to put me to work."
Emergency medicine physician Dr. Neha Janakiraman chose a recruiter who listens and seems to have a sixth sense about what she needs — be it assignment-related or even just a pep talk.
"My recruiter meets me at exactly my level. She's kind of my pep talk person. She'll say 'Dr. J., you know they'll love you, just be yourself.' She makes sure the travel is arranged, I have all the necessary phone numbers, and makes sure the whole process goes smoothly, where it's transitioning from one hospital's culture to another. She makes it so I can provide care from the moment I step in the door."
Someone who puts you first
Having a close relationship with a good recruiter can be incredibly important when life gets complicated. Emergency medicine physician Dr. Jim Mock had a health scare and had to cut back on his traveling, as he wasn't allowed to fly during his recovery time. Even though it impacted his ability to take locums assignments, he felt nothing but support from his recruiter and the agency.
"They bent over backwards and went the extra mile to make sure I was taken care of and healthy, and that I had enough work if I wanted to work. They even went so far as to find me jobs within an hour of where I live," he shares. "They don't have an obligation to do that. They're good people; they really are good people and they stand by doing what they do."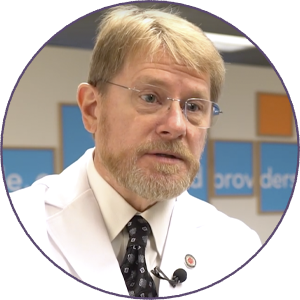 Building strong relationships
Having a good connection and pairing with a recruiter you trust is important when working locum tenens. Knowing the recruiter has your best interests — rather than just profit — in mind is crucial.
"I work with my agency primarily because of the relationships that I've formed here," Dr. Ron Stiller, a pulmonary critical care physician, says. "I connected with one of the recruiters, and quite frankly we started having a really nice relationship. We figured each other out pretty quickly, and we've since become like friends. It's the personal connection that makes me stick with my agency. It's the relationship."
PA Terry Rand feels she and her recruiter have established a close bond, making her feel like a part of the team.
"We've developed a friendship," Rand says. "I can talk to her about how things are going both personally and professionally, and I trust her, and I trust her to do what's right for me and that she'll go to bat for me."
Attention to the details
"I work really well with Scott, and he takes care of everything. I don't have to worry about anything," Dr. Hassell says. "Even if Scott's out and I need something, I can talk to someone else and they already know what's going on."
Child and adolescent psychiatrist Dr. Gallehr feels he found the perfect fit for him.  "My recruiter makes everything easier. It's nice to know who to call when there's a problem and the response rates are fantastic," he says. "She takes care of any problems that arise — everything. Most of the time, she solves the problem before I know it's a problem."
Having an advocate
Finding a good recruiter may happen quickly, or you may have to do a bit of legwork — whether it be online research or talking to your locums colleagues. You want someone to advocate on your behalf, to really listen to your needs and wants, and who follows through.
Emergency medicine physician Dr. McKayla Sakimura describes her recruiter as an advocate. "My recruiter isn't just my recruiter, he's my overall representative," she says. "I feel like any question I have I can go through him. I can shoot him a text or email pretty much whenever, and he usually responds pretty quickly or lets me know who exactly I need to talk to. He just understands me."