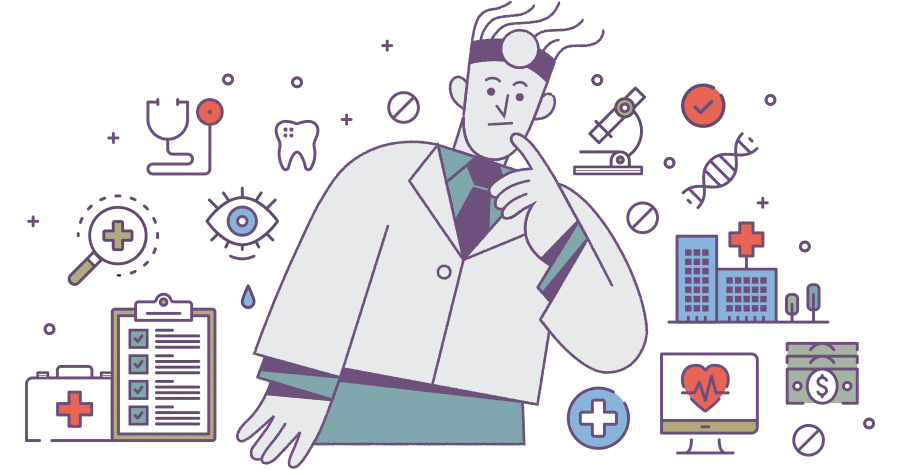 Most locum tenens physicians are independent contractors, which means they are typically responsible to provide their own medical, dental, life, and disability insurance. So if you're thinking about becoming a full-time locums, it's important to make plans to have the coverage you need.
But the process of getting your own insurance isn't as daunting as you may think. While it does require a bit of research, planning, and forethought, there are many options and resources available, and thousands of locums physicians make it work for themselves and their families every day! Here are a few of the options to consider.
Sign up for COBRA
COBRA is a good option for short term coverage when transitioning from a permanent position to full-time locum tenens. It gives you and your family the right to continue group health benefits provided by your previous group health plan for a limited period of time under certain circumstances, such as voluntary or involuntary job loss. It's a bit pricier than group health coverage, but it's an excellent stop gap to ensure you have continuity of care until you're able to enroll in another insurance plan.
Enroll in your spouse's or partner's insurance plan
One of the simpler options for many locums is to have your spouse or partner add you to their insurance plan. Many employer insurance plans have medical, dental, disability, and life insurance — even nontraditional benefits such as telemedicine and pet insurance — that are available to immediate family members. If this is the route you'd like to take, don't be deterred if you've missed the open enrollment deadline. Change of employment status is considered a qualifying event for most group plans.
Visit Healthcare.gov
A recent CHG Healthcare survey of nearly 4,700 locum tenens physicians revealed that 23% of them have signed up for a healthcare plan through Healthcare.gov, the insurance exchange provided under the Affordable Care Act. One of the benefits of the ACA is that it requires insurers to cover conditions or services such as preventive care and ER visits; outpatient care; help recovering from an injury or treating a chronic illness or disability; mental health and substance abuse disorders; and dental and vision coverage for children.
Dr. Nicholas Kanaan, in a guest post about locums' healthcare coverage on The White Coat Investor's blog, shared how he acquired healthcare coverage as a locum tenens physician: "Last year, I chose the middle-of-the-road Silver Plan that qualified for an HSA (Health Savings Account) — an important feature for me, given the tax benefits and investment opportunity of having an HSA as a triple-tax advantage."
Take advantage of the power in numbers
On his blog, The Locums Life, Dr. Andrew Wilner recommends looking into insurance options offered through organizations you may already belong to such as your specialty society. "Many specialty-specific societies have reduced rates for members," he says. "As an independent contractor, locum tenens doctors fall into many groups not utilizing these resources."
He says physicians often overlook large organizations they may be affiliated with, like The American Medical Association, American Association of Retired Persons, The Freelancers Union, and the National Association for the Self Employed.
Dr. Wilner also recommends Christian Health Sharing Plans as an option, although they tend to be more restrictive in their coverage than other plans. Dr. Wilner points out these plans won't pay for preventive visits and require you to pay up front and then get reimbursed. He says, however, that this option tends to be dramatically cheaper, so it may be worth investigating.
Reach out to a local insurance agent
Want additional help? Reach out to your local insurance agent. Healthcare.gov's Find Local Help allows you to search for qualified insurance agents near you.
While the prospect of finding the best and most affordable insurance as an independent contractor may seem complicated, it doesn't have to be. There are plenty of resources out there to help you find the right insurance offering the right coverage for your individual situation.
RELATED: How to plan for retirement as a locum tenens physician