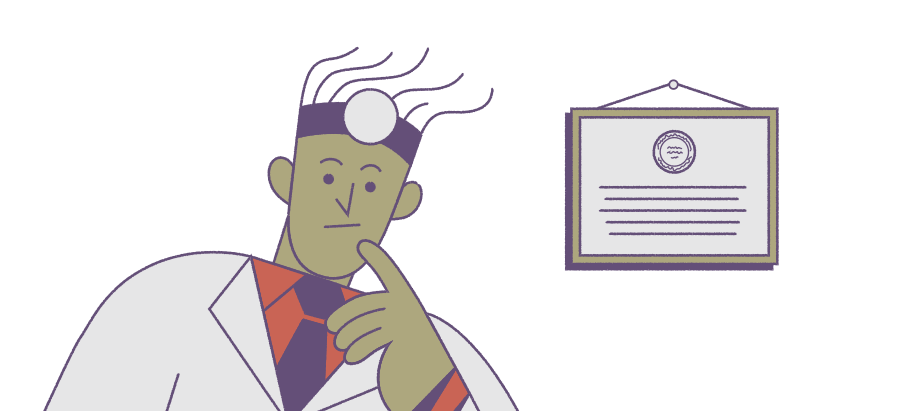 Updated 05/5/23
For physicians, nurse practitioners, and physician assistants wanting to work locum tenens, the idea of obtaining medical licenses in multiple states can seem like a lot of work. However, if you're serious about locum tenens as a career option, taking the time get licensed in the states where you want to work is well worth the investment.
The flexibility to work where you want
Hospitalist Dr. Franklin Mikell currently holds 12 state licenses, even though he's only used three so far: for assignments in Pennsylvania, Ohio, and Indiana.
"I didn't want to limit myself to just one region, any one state once I finished my permanent work," he says.
Dr. Mikell admits this was quite the undertaking, since obtaining a state license requires getting certified copies of diplomas, training certificates, and transcripts, but since his long-term plan was to work locum tenens, he made this process a priority. "Every time you fill out a state application, they ask about the last location you were at, they want to speak to that program director, and there are forms they will need to fill out. It can be fairly cumbersome," he says. "I saw it as an opportunity at the end of my stay at the previous hospital to get a lot of that paperwork done while I was still located there physically."
He obtained many of his 12 licenses on his own but is now getting help from an agency. He continues to pursue other state licenses to keep his options open.
Interventional cardiologist Dr. Siamak Karimian has been in practice for 45 years and doing locum tenens fulltime for the past ten. Over the years, he's accumulated more than 30 state licenses. He hasn't used all of them yet, but having so many licenses has allowed him to work all over the country.
"I've been all over the country," he says. "Most of the Americans don't travel as much as I do. My favorite assignment was in Billings, Montana. The location was good, the hospital was magnificent, and the group was excellent."
6 locum tenens licensing tips
The following six tips can help the locum tenens licensing process go more smoothly.
1. Keep copies of all certificates, transcripts, or records
Many boards require copies of all certificates, university transcripts, and other records, so it's helpful to have these items already copied or scanned in electronically. Some physicians recommend storing them in one easy to access place, like Google Drive or another cloud-based storage.
2. Keep a concise chronology of activities
Having accurate dates for employment, graduation, training, and exam attempts will make the licensing process go smoother and quicker.
3. Apply for expedited licensure through the IMLC
If you're eligible, apply for expedited licensure through the Interstate Medical Licensure Compact (IMLC). There are currently 37 states and one U.S. territory accepting applications for expedited licensure through the IMLC, simplifying the locum tenens licensing process significantly. In order to be eligible, you must be a resident of a state of principle licensure (SPL) and meet additional qualifications. The application process involves using your existing license information, which includes a background check and verification of information on file. Once approved, you will be eligible to apply online for additional licenses with IMLC member states.
Dr. Karimian went through the IMLC for his licenses in South Dakota and in Minnesota and plans to do so for additional states in the future. Compared to the normal process of applying for state licenses, he describes the IMLC process as a "piece of cake."
Pulmonologist Dr. Gary Drizin was able accept a locums job in Michigan with very short notice by going through the compact's expedited process. At first he was skeptical his locums agency could get the license in time. "Everybody said, 'We're good. We'll get you the license within a week and you'll be good.' And it happened," he says.
4. Apply for the Federation Credentials Verification Service
The Federation Credentials Verification Service (FCVS) is a fast and convenient service offered by the Federation of State Medical Boards (FSMB) that stores primary-sourced verified education information that can be sent to multiple state medical boards. There are 15 state licensing boards that require FCVS, and all medical boards accept it as primary source verification.
5. Allow adequate time for processing
Jessi Rawlins, an experienced licensing coordinator who works for CompHealth, says a good rule of thumb is to apply for a license 90 days in advance of an assignment. "Most licensing boards post estimated timeframes on their website, or you can give them a call for an estimate."
However, the time needed can vary dramatically from state to state. "Licenses can take anywhere from one week to six months to be processed," Rawlins says. "The timeframe depends a lot on the board's current processing speed, as well as the complexity of the individual application."
6. Renew existing licenses
Dr. Laura Bruse, an orthopedic surgeon who has worked locums for more than seven years and completed 50 assignments across the U.S., stresses the importance of keeping all of your currently obtained licenses active. "Be sure to give yourself enough time to renew each license," she says. "This process may take as little as two weeks for a temporary license in Nebraska, for example, or up to three to six months or even more in states like California, Florida, Nevada, and Texas."
7. Obtain a new DEA license
"Most locum tenens providers can expect to need a new DEA license to go with their new state license," Rawlins says. "Some boards require DEAs to stay in the state in order for a state-issued controlled substance permit to remain active."
However, once an additional DEA license has been obtained, it's typically easier to transfer these for future assignments without impacting a current assignment. "Obtaining a new DEA license can take twice as long as transferring an existing DEA from state to state," Rawlins says. "This will help you to be ready for an assignment even quicker."
Advice for new locums
Rawlins has the following advice if you're new to locum tenens.
First, it's critical to keep everything up to date. "Due dates and expiration dates hold a lot of weight in the licensing world," Rawlins says. "This applies to state licenses, board certifications, CME requirements, etc."
Next, she stresses the importance of being patient. "Each medical board is working hard to license providers as efficiently as possible, while holding to the laws and statutes of their states. They all have different processing times. Also keep in mind that medical boards are far busier during the holidays and residency season. Delays during residency season can begin as early as April, and holiday delays typically begin in November."
Finally, Rawlins says it's important to disclose as much personal history information up front to the board. "The more questions that a board processor has after reviewing your application, the more time you can anticipate your license application to take," she says.
"And if you're working with an agency, ask the licensing expert or your recruiter questions," she recommends. "If you're not working with an agency, don't be shy about reaching out to a medical board directly with your questions."
Working with a locum tenens agency
Many locum tenens providers prefer to work with an agency that can provide locum tenens licensing assistance. Most agencies have dedicated licensing and credentialing personnel who will take care of everything, including the license application fees, verification fees, delivery fees for the application, and verifications to be sent to the licensing board. Additional licenses for potential future assignments may also be paid for by the agency, however that may be determined on a case-by-case basis.
Another advantage of working with a locum tenens agency for licensing is that they typically have well-established relationships with most medical boards, which can facilitate the process.
Get help
For physicians, PAs, and NPs just starting out working locum tenens, the licensing process may seem difficult, but you don't have to go it alone. Working with an agency will often save you time and money. But if you plan to oversee the licensing process yourself, never hesitate to ask questions of the state medical boards as well as other locums doctors who have already gone through the process.
For more information on working locum tenens and licensing, check out our resources page.