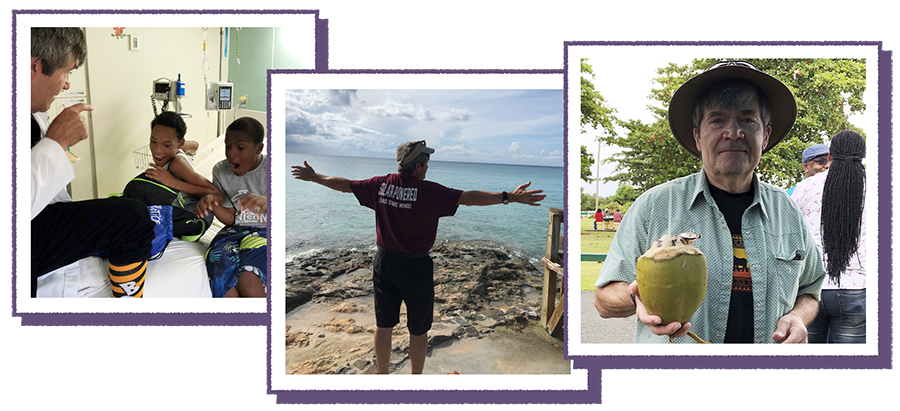 Clark Knutson had a decision to make. After the Vietnam War, the U.S. Air Force pilot could get a USAF paid education to pursue a new professional path. His first plan was to become a veterinarian. Nope, they said, he'd have to transfer into the Army for that; the Air Force didn't need veterinarians. But they would pay for med school, so he decided to become a physician instead — a pediatrician, in fact. Little children, he reasoned, aren't unlike animals. "They can't really talk to you, and they're sort of helpless." Plus, he laughs, as any parent can attest, "they can be little animals."
A love of travel
Travel has been in his blood since his Air Force days, so being an international locum tenens pediatrician was a natural evolution for him. It would allow him to experience unique opportunities he might not have otherwise.
He retired from the Air Force in 1996, and then went to Tasmania with Global Medical Staffing for a locums assignment as a hospitalist. Once back in the States as a civilian, he got bored. "I was playing tennis five days a week, and it wasn't as much fun as I thought. Then they called me again and said, 'Do you want to go to Queensland, Australia?' I said, "'Yes, I do. Get me out of here.' So, we went to Queensland, and that was a lot of fun."
A different style of medicine
As a locum tenens pediatrician, Dr. Knutson has enjoyed both international and domestic assignments. On a recent assignment in St. Croix, Virgin Islands, he found much in common with Australian medicine.
"Australian medicine is very economical," he says. "Down here in St. Croix, with its 60,000 people plus tourists, it's kind of like that here too. Everything is filtered." He explains that patients see a NP or PA first, then a GP. They call him when a child is seriously ill. "I can take care of 60,000 people easy. I'll just see the really sick kids, which is what they want me to do here, which is what I want to do."
The St. Croix assignment wasn't without its challenges. "They could put as the motto of the hospital, 'The Make Do Hospital'. Everyday it's something. The ORs were closed for a few days, we didn't have a pediatric floor for a couple of days, early on in the month we didn't have any oxygen. We're right on the tip of the sword really. It's not dangerous, but you do have to make do. You've got to figure out how to work together and how to share."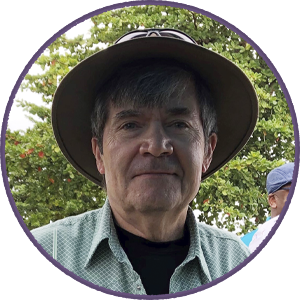 The best medicine has to offer
Living life as a locum tenens pediatrician "fills an itch" in him, Dr. Knutson says. He loves medicine, but "I don't have to work full-time, I don't have to take care of administrative stuff, I don't have to schedule anybody, I don't have to write checks for salaries, I don't have to hire or fire anybody."
He enjoys sharing with others the best perks each location has to offer. "The best music is here," in St. Croix, he says. "The best food I would say is in Queensland, although Tasmania had really great seafood. The best weather was in Modesto, California. The people here in St. Croix are quite bubbly. People in California really took care of me — mostly Hispanic people in Modesto who would invite me to their homes. They had the best tacos and stuff."
Giving credit where credit is due
Dr. Knutson points out that there are many people who should be acknowledged when there is a successful medical outcome.
"Sometimes we'll get kids that are really sick. If they hadn't come to this hospital they would have died, that's just a fact. If somebody says, 'You saved somebody's life.' Well, I was a part of a group of people that saved somebody's life, I didn't do it by myself." He elaborates, "There's the guy that cleans the room, there's the person that keeps the equipment working right, there's the ambulance driver, there's a police officer that directs traffic, there's somebody that handles the 911 call. There's a whole slew of people involved in saving that person's life, and the doctor, a lot of times, gets the credit," he says. "A whole bunch of people do not ever get thanked."
Sad outcomes need sharing too. "Putting my arm around the ambulance driver who hauled that person to the hospital that shows up DOA makes a difference. He or she feels responsible, 'I should have driven faster. I should have done something.' You've got to share that. You've got to share the success, and you've got to share when it doesn't work out."
"Life is funny," he says on reflection, "it's a complicated thing."