Can the traveling lifestyle work for the partner or spouse of a locums? For orthopedic surgery locum tenens PA Jason Raehl and his wife Courtney, it's worked swimmingly. Jason and Courtney spent several years researching locum tenens and how it could work — for both of them. Would Courtney feel like she would just be following from assignment to assignment? Would she get bored? In the end, it worked out better than they expected.
Making the decision together
Courtney says it was important for both of them to make sure they could make locums work for them as a unit.
"From the beginning, we've been on the same page as far as what this opportunity would mean for him, but for me as well," Courtney says. "I think we're aligned, and that's probably the most important thing: you need to be on the same page in order to travel with your partner."
They've also discovered it's important for both partners to be equally prepared for the personal flexibility required when moving from place to place. Having similar interests doesn't hurt: Courtney and Jason are both runners and use that as a chance to find local running groups to meet new people.
"I would say that my husband and I are both fairly social, but we have the same interests," she shares. "And I think we both wanted to be able to go on adventures together, so this has really allowed that to happen.
"I mean, right now we're taking a month off in between his assignments and we're just having a great time, so I'm all on board."
Traveling in tandem
Traveling — at the same time — and spending time together is important for the pair. Before Jason took locums assignments, he and his wife had conflicting schedules and very different time off.
"She had a few weeks a year and I had five or six, so a lot of times I was taking vacations on my own or with other people and I felt bad about that," Jason recalls. "I wanted her to be there, or for her at least to have the opportunity to go if she wanted to."
However, once Jason decided to take the leap into working locums, they found they were actually able to spend the time off they wanted and travel together.
"This has worked out really well; right now, we're taking a month off and traveling together the whole time, and there's nothing Courtney has to miss out on," Jason says. "I love the flexibility locums provides, so we can explore new places."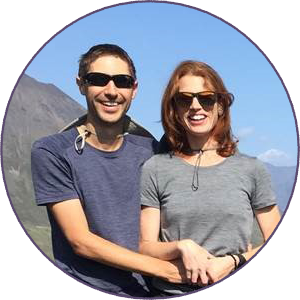 Continuous education as a locum tenens PA
Jason really appreciates not only his flexible schedule, but the fact that he's able to experience a variety of work settings, patient populations, and new ways of doing things. He's found that even though he had primarily been treating adults, locums gave him the chance to also treat pediatric patients.
"One of the great things about being a locum — especially a locum tenens PA — is you can go into a new setting and learn new things and different ways of doing things," he says. "I was exposed to different types of surgery that I hadn't done before which was a great opportunity."
He's also found that the ability to treat different patient populations has "broadened his horizons," as he found he was getting somewhat subspecialized in the types of surgeries he was assisting in, and the different locums assignments he's worked helped him avoid becoming myopic.
"Since I had been assisting in mainly adult surgeries, my locum tenens assignments made it possible for me to treat six day olds all the way to patients who were 100. I was exposed to a wider range of surgeries and procedures that I wasn't normally doing."
Jason says this gives him more tools in his PA toolbox, and makes him feel better prepared for his next assignment — giving him more experiences to pull from.
The advantages of locums housing
The Raehls have really appreciated the ability to arrive at their next assignment location, pick up their keys, walk into a fully furnished house, linens on the bed, kitchenware in the drawers, utilities paid, and TV and cable ready to watch.
Jason especially loves the stress-free locum tenens housing: "We don't have to deal with the landlords, we don't deal with a month-to-month lease, we don't put any money down for a security deposit, and when the assignment is done we leave and go to the next place. Not spending any money on housing is amazing."
Courtney has found the nomadic lifestyle has made them streamline their belongings, and realize what belongings are important.
"It's a really good exercise, because you start to realize there's a lot that you don't need with you all the time," she says. "You're kind of fitting your life in this box and moving around."
Finding fulfillment as a partner
While there are partners of locum tenens professionals who are satisfied to stay behind at home while their spouse or partner is working different assignments, Courtney is grateful her profession allows her to move with Jason to his different assignments. "In the future, I plan to do freelance art design and director work to start my own business."
She feels since Jason has begun working locums assignments, it has given her an opportunity to see if she's fulfilled.
"This opportunity for him has given me an opportunity to take a break and kind of figure out what exactly I want to do, because I've always just focused on one area of design," she says, "so now I have the freedom to see what else is out there and what opportunities are available."
In it for the long haul
When asked how long he intends on working locums, Jason feels that at the moment the benefits of locums outweigh the downsides.
"I think it's going to be hard to stop," he says. "It's just been great. Overall, I feel like I have less stress in my life. There's less paperwork, fewer emails I'm responding to, fewer meetings, and it really frees me up to concentrate on seeing patients."
In addition, Jason loves the fact that he can take a large chunk of time off without needing to request it and get approval.
"I don't know many jobs, especially in the medical field, where you can do that."
As far as a definitive answer? Jason has a simple one:
"We're just going to keep going until we decide to settle on a place that we just can't live without."
Courtney feels the same, but adds, "You may not know where you're headed next, but you'll have a great story to tell."