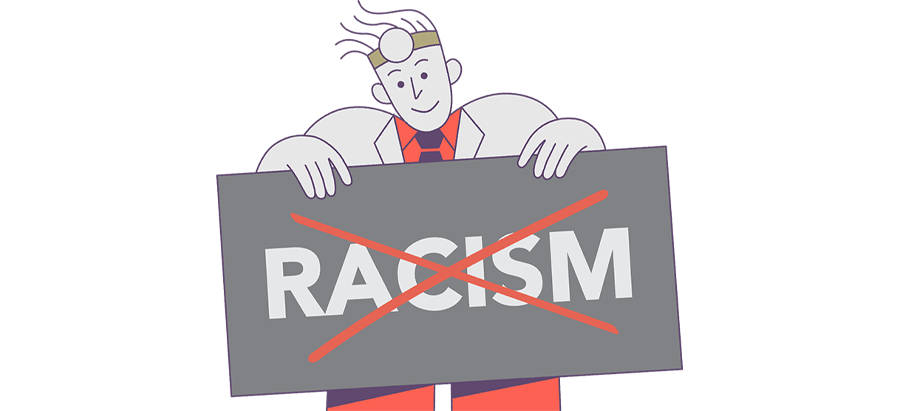 Ripal H. Patel, MD, MPH, shares his thoughts on race and medicine as a locum tenens emergency medicine physician.
Watching the thousands gather in downtown Houston to support the Black Lives Matter movement. Some wearing masks and many not. Fears of tear gas, breathing, and sweat — a petri dish for COVID-19. The coronavirus — invisible to the eye — looking for a new host, with a blind eye to race or politics. Infect. Just infect.
How is a physician, passionate about human rights and demolishing institutional racism, to reconcile this moment in history?
A time of distress
I flashed back to another time of distress — when Houston was experiencing torrential storms. This was pre-Harvey, but the grim prospects of flooding and damage were very real.
I stood there that night, with a large needle almost 6 inches long, about to harpoon my patient, Bill, in the abdomen. Bill had a large, faded swastika across his belly. He lay there in bed, pale, emaciated, with sunken cheeks, a thinned-out ponytail set back against a receding hairline, protruding ribs, and a belly so large he appeared pregnant. My needle tip was poised along the swastika. Bill closed his eyes expecting the thrust.
Bill was dying of cancer, specifically hepatocellular carcinoma, or liver cancer, caused by a viral infection. Liters of blood flow through the liver to be detoxified; when this blood flow is impeded for any reason, it backs up in unwelcome places. The cancer causes cirrhosis, or hardening of the liver, making flow through this organ very difficult. In Bill's case and in most others with liver cirrhosis, the abdomen is the most noticeable location. When I am teaching at the medical school, the physical exam finding most noticeable to the students is complete yellowing of the patient as toxins back up in their body.
The ER was essentially emptied out that night, and my partner and I were enjoying a quiet night for a change. When I walked into Bill's room and examined him, the signs of white supremacy were tattooed over his body. I found the predicament ironic: myself, South Asian, my assistant, Pakistani, my nurse, African American, and the registration individual, Hispanic. And yet, none of this seemed to phase my patient, as he lay there drenched from the storms.
Treat all patients
I reflect back often on my father. He was a gastroenterologist. He came here in the 1970s from a poor village in western India. Upon immigrating to America, he certainly saw his fair share of things he had never been exposed to — HIV, homosexuality, and racism, to name a few. And more so when he lived in rural Virginia, in a coal-mining town and on the cusp of the HIV pandemic.
I remember my father telling me a story of removing a foreign body — specifically a cucumber — from a patient's rectum. My mom, a laboratory technician, was giggling, curious about the nature of the incident.
My father's response was stern and always resonated with me through my years of training: physicians treat all patients, never rendering judgement despite beliefs they may hold, and no matter how they might treat or judge us. I thought of this as I stared back at the faded swastika.
The procedure I was performing was called a paracentesis: essentially removing all the backed up fluid from Bill's abdomen for comfort. He had this procedure scheduled to be done every two weeks, but some weeks the fluid build-up was too great and the discomfort too heavy, hence his visits to the ER for drainage.
Looking at Bill and actually talking to Bill was jarring. Here he was, a kind, warm individual dying of cancer, yet he had chosen to deface his body with racial insignia. As my mind was trying to reconcile these deeply contrasting images, Bill whispered, "Thank you so much for doing this, Doctor; I really appreciate all your help."
We removed almost five liters of fluid from his abdomen. Bill was polite, cooperative, and at one point asked me in his deep Southern accent, "Doctor, I really don't want to bother you, but would it be possible to get a bit more medication for pain? If you can't I understand."
What will make us change?
Practicing emergency medicine is a privilege because of the tremendous variety of patients we see. Every day I come across situations like Bill's that make me reflect on being a physician, understanding empathy, and deciphering how illness sociologically changes a person.
I wonder when this change came about for him: did illness make him leave his sheltered social circles for the culturally diverse arenas of hospital systems? What was it like for him to have various foreign doctors treat him, alleviate his suffering, and ultimately give him hope for a future beyond this condition? How often do we judge somebody prematurely, and only after a meaningful encounter do we feel ashamed at our preconceptions?
How does disease affect us? How does my patient feel when he is entirely vulnerable and at the mercy of his physician? There's a term in Sanskrit: "shraddha," which means faith, and I wonder what type of submission that must entail in Bill's situation. I wonder — in such precarious times, in the wake of suffering and possible death from a multiplying, insidious microscopic cancer that slowly erodes at one's life — if perceptions of race or backgrounds matter anymore.
I uphold a belief that people are not inherently racist. As a locums physician, I often reflect on that belief as I travel and work in parts of the country where perhaps my colleagues would hesitate to work. I believe there is truly good in everyone, and that these bigoted notions are a byproduct of upbringings and social constructs. I believe that in the right environment, the same person would not be racist. And that makes me reflect back on Bill.
It may have taken disease to change Bill. In a multicultural healthcare system, with diminishing time as his life was ending, hate had no place. No time. The people he may have once discriminated against were now giving him loving and compassionate care.
Treat and respect everyone the same — no matter how they perceive you — my father said, as he saved the lives of coal miners in West Virginia in the 1970s. When I reflect back on all the ills of medicine — corporate takeover, vicious metrics, patients lacking insurance, and public health failures — I think of Bill. Patients like him are the reason I became a physician.
Does illness have that ability to make us see each other as a single human race? In the aftermath of COVID-19 and the largest mass protesting of our many failings as a country towards Black Americans, will the illness help tear us apart or bring us together? I pray for the latter.