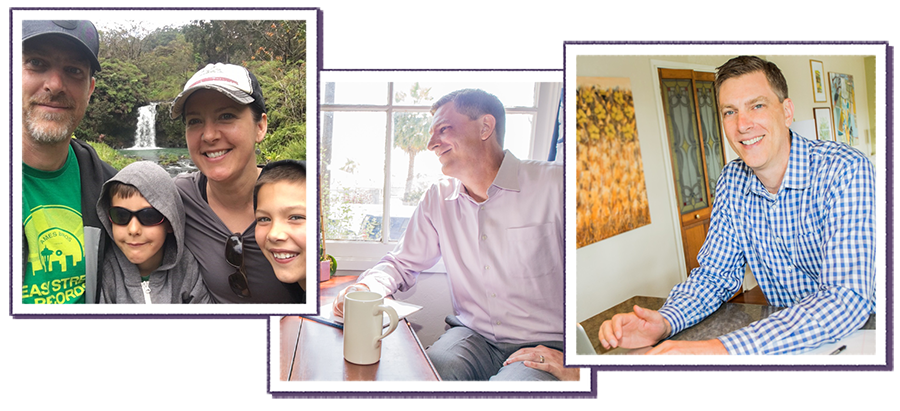 Can I move my kids to a brand-new place every few months? What will the work/life balance look like? How will the kids and I stay connected to my spouse when he or she is gone?
These are just a few questions many people face when their spouse considers locum tenens as a career choice. Heather Flagel and her husband psychiatrist Dr. Jeremy Flagel had these questions and more when he started locums full-time in 2014. Dr. Flagel now has his own private practice while doing locums work on the side, but he and Heather shared their locums experience to help answer some of your questions.
Getting started with locum tenens
"The first thing that started the conversation was knowing that it would be a little bit more lucrative, to be honest," Dr. Flagel says. "As soon as I started working at other hospitals and going to other places, I was working fewer hours, so I had more time with my family. We were able to travel a little bit more, and it was really exciting."
Dr. Flagel's family also enjoyed having him around more and spending time together. "We had transitioned from him being in a very busy, intense practice to him working locums," Heather recalls of travelling with her husband and their two sons to locums assignments. "All of a sudden we had a lot more time as a family. That was really, really lovely."
Taking the kids on the road
"When they were little, it afforded us this opportunity to travel all over the country and see all these things that we would not have seen," Heather says about travelling with their sons when they were younger. "We got to experience different towns and different ways of life."
Both Heather and Dr. Flagel enjoyed creating adventures with their young boys while on assignment but — as with any job — there are ups and downs. "There were some downsides," says Heather. "One time a contract that we hoped was going to go long was cut short. That was pretty complicated, especially since we had to pull our kids out of school. But it was all things that we knew were possible, so it wasn't like it couldn't be managed."
Dr. Flagel says one of the cons of locum tenens with a young family is the bouncing around, "My oldest did kindergarten in Pennsylvania and first grade in Wisconsin and second grade in Northern California and Portland, Oregon, but he's also become really adaptable. He's a bright social kid that's able to adapt to new situations."
RELATED: The joys of living the locums lifestyle as a family

Staying connected while you're apart
Now that their boys are older, Heather and the kids don't travel with Dr. Flagel on his assignments, but she doesn't see the time away as a negative. "It's been great because — to speak frankly — the pay locums offers gives him an opportunity to bust out a lot of work that week and have more time when he's home."
Thanks to technology Dr. Flagel says he still gets to see his family even when he's working hundreds, if not thousands of miles away. "There's always the phone and Facetime."
While he does admit nothing beats the actual in-person interaction, Dr. Flagel says he and his family are close and stay connected, "The one week doesn't really seem to be too big of a deal, but they call and give updates pretty frequently."
Working as a team
Heather and Dr. Flagel work as a team — whether it's raising their sons, planning dinner, or choosing where their next locums assignment will be. "We do that together, for sure," Heather says. Dr. Flagel has a similar answer when asked if they choose assignments together, "Absolutely. It's always been a team decision for us."
Heather says they think about whether it's a place she and their boys would like to come visit. "Last summer he was on an assignment in Bend, Oregon, and we were able to tag on our family vacation to the assignment, so it was perfect. The boys and I were there with him, and we had vacation and then we had a couple extra days of vacation after he was done with his assignment. So, with us it's often about, is this a place we want to spend time?"
Some advice about locums with a family
Questions like how the pay is, what it will be like travelling with or away from family, and what the time commitments will be seem obvious, but what should you know but haven't thought of yet? Heather has some advice for those thinking about locum tenens with a family.
"It's important that spouses really know what the needs of each person in their family are and how their kid is wired. Are they wired for the moving and the adventure? Or do they need more of a set home base?"
She says her family's relationship with locums changed as their family grew older. "It really worked well when our kids were little. And then my kids got to an age that they needed to stop moving around. So for me it was just having that awareness of what all the needs of the different people in the family really are so you can make decisions accordingly."
Heather says having her husband go on occasional locum tenens assignments for a week at a time works for their family now, but she says she could really see her and Dr. Flagel doing more locums together after their boys are grown.
SEE ALSO: Locum tenens gives physician his life and family back