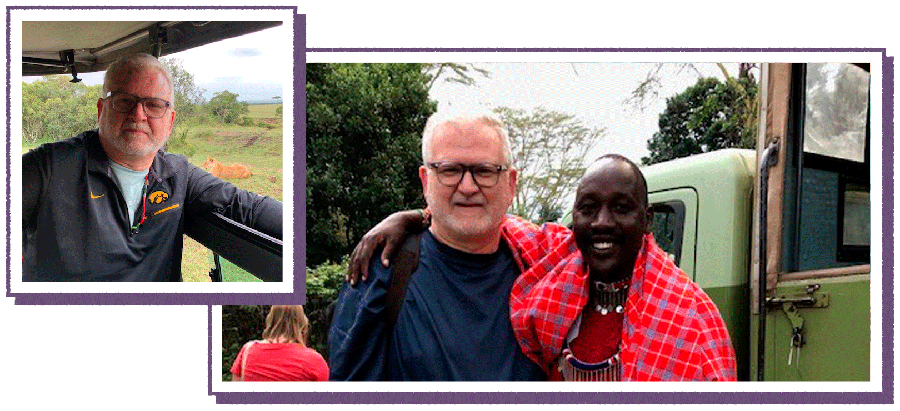 Ted Smith had a singular vision from the age of 10, when he was a diehard fan of the TV show Emergency — he was going to work in medicine. "I didn't care about anything else in school," he says, confessing that he got his worst grades in subjects that were unrelated to medicine.
At 17, he talked his way into an 18 and older EMT course. Soon after, he volunteered for an ambulance service. He went on to attend a University of Iowa paramedic program, then a Cedar Rapids ortho tech program.
At a job in Mason City, IA, his dedication and drive caught the eye of a hospital administrator who offered to pay for his PA schooling and all related expenses. As a result, he became first an orthopedics PA, then an emergency medicine PA. He's going on his 26th year.
Seeing people get better
The reason Ted loves being a PA is simple. "Just seeing people get better," he explains. "Some people come into the ER very, very sick. You see the process that caused them to get sick. You help reverse that and see them improve. It provides such satisfaction."
The give-and-take relationship with physicians is a source of joy as well. "PAs have quite a bit of autonomy. We work with physicians, but we're still allowed to see and treat our own patients. If there are questions, they are all very amenable to talking with us about problems, going over everything." Frequently, he's had doctors ask, "What do think about this?" or "Come look at this with me." Having the respect of your colleagues is very rewarding.
Venturing into locum tenens
Longing to do some traveling, Ted thought that locums would be a great way to make that happen. But when he first considered making the change, his college-aged children were into various college sports and wanted their father cheering them on. When the kids finished college, the time was right. Three years ago, Ted started working as a full-time locums PA. He quickly found how much he loves the variety — and the sanity — that working as a locum tenens PA offers.
"When you do emergency medicine in the same place, you get burned out," says Ted. "One place had 24-hour shifts, and we worked eight shifts a month." That was on top of a two-hour drive there and back. "Get up at 4 am, drive two hours, work 24 hours, drive home two hours. There were days where I would get home, take a nap, wake up, and go, 'How'd I get home?'"
The change to being a full-time locum tenens PA was refreshing. "Now you work somewhere for a few weeks or a few months and then you get to go somewhere else. You kind of start all over, you start fresh. You feel like it's a new beginning."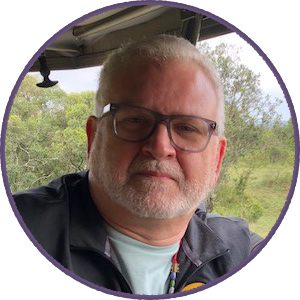 Skills transferrable everywhere
He likes the fact that the same skills that are applicable in one place are applicable every place.
"There is a 'Mrs. Jones' in every single town I've worked, the same Mrs. Jones with the same problems. It's the same people, different day."
But the towns, states, and countries he's worked in have offered him something new as well. "You learn to work in other systems and see how they do it. You can bring that information back with you no matter where you go."
That was especially true of a medical mission to Kenya he participated in in 2019 that was funded by a grant from the Making a Difference Foundation. Ted says, "It was eye-opening from a standpoint of how people live and how they survive. We have so much, and they have so little, yet they are so happy." He recommends the experience to other medical professionals. "I think people, if provided the opportunity to do a medical mission, should go and do it. You truly feel like you give back, but you get as much as you give. It changes how you practice. It changes you."
Coronavirus and other challenges of locums
COVID-19 has had a minimal impact on Ted's locums schedule, costing him only a couple of shifts. The critical role of emergency medicine in the pandemic is the likely reason. "I have friends that have lost positions or been furloughed, so they're not working. Some are starting to come back, some still looking for work. I consider myself fortunate to be able to keep working."
Aside from the security, he admits that locums, like anything, isn't all a bed of roses. "The travel can be difficult," he says, especially when getting to your destination is a haul and a half. He admits too that locums can impose a schedule that often rules out attending hometown events or activities regularly.
Since most placement companies allow you to talk to current employees, he says PAs interested in locum tenens "need to talk to people doing it … and ask a lot of questions."
When you come right down to it, Ted's of the opinion that locums is a good career option for PAs looking for new opportunities or for PAs who enjoy travel.